S&S Distribution draws locomotive comparison with first Iveco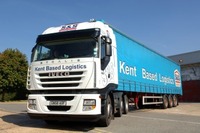 Iveco has secured a conquest heavy truck order from Tonbridge-based S&S Distribution, which has taken delivery of its first Iveco for its 50-strong fleet of commercial vehicles, which are used on general haulage operations nationwide.
The order for a new Stralis Active Space Super³ 6x2 twin steer tractor unit followed an invitation from local dealer Stormont Truck & Van to test drive the new flagship of the Iveco range at Millbrook Proving Ground, coupled with positive reports from other high profile Stralis operators.
Chris Burt, a Director of S&S Distribution, explains: "When I drove the new Stralis I realised at first hand that it was as good from a driver's perspective as any other modern heavy truck on the market, with a spacious cab offering a comfortable living and working area, coupled with an abundance of storage space.
"Since the vehicle entered operation the driver has reported being very pleased, and says the Stralis 'pulls like a train'. Each vehicle clocks-up in excess of 160,000 km a year, primarily on a single shift system, so ensuring our drivers like their vehicles is essential," he adds.
Plated to 44 tonnes, the Stralis AS440S45TX/P operates in conjunction with a tri-axle curtainside trailer and is likely to remain in operation with S&S Distribution for up to eight years.
"One of the other critical factors which led to us trialling our first Iveco was the positive reports from other fleets running the new Stralis. We know the team at Meachers Transport very well and they have had nothing but praise for the latest generation of Iveco heavy trucks," concludes Mr Burt.
This new addition to the fleet is powered by Iveco's 10.3 litre Cursor 10 engine, which is particularly suited to an economical driving style and offers up to 2,100 Nm of torque at low engine speeds (1,050 to 1,550 rev/min). This peak torque helps to simplify hill starts with a full load, whilst also protecting the clutch and guaranteeing flexibility and quiet running. The maximum 450 hp is also delivered at intermediate speeds; helping to reduce fuel consumption and emissions, since it is not always necessary to increase the engine speed.
Like all Stralis' sold in the UK, this particular model is fitted as standard with Iveco's 12-speed EuroTronic transmission, which offers either fully or semi-automated shifts – continuing the trend Iveco started with the launch of the original Stralis, when it became the first heavy truck to be fitted with an automated gearbox as standard.
In taking delivery of the new Euro 5 Stralis, S&S Distribution also benefit from a discount of £500 per year in Vehicle Excise Duty, via the Reduced Pollution Certificate. Available for the duration of the vehicle's life, this could account to a saving of as much as £4,000 over the vehicle's planned life on the fleet.