Eurocargo 4x4 goes off-road in blue light role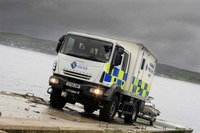 Scotland's largest police force, Strathclyde Police, has taken delivery of the first Iveco Eurocargo 4x4 in the UK to be specified with a crew-cab. The unique vehicle has entered joint operation with the Force's Underwater Search Unit and Marine Policing Unit, to ensure easy access to shoreside locations and remote lochs.
Supplied by Glasgow-based Iveco dealer Kerr & Smith, the specialist Eurocargo 100E18WS will be used to transport a bespoke-built pod mounted on its chassis which contains both 'wet' and 'dry' rooms for use by underwater police divers, when preparing to dive and after re-surfacing. It also includes an area where the team can cook a hot meal – essential in isolated locations, especially in the winter months.
In addition to its factory-built crew-cab, which offers seating for a crew of up to seven persons, the Eurocargo is mounted with both a winch and a tow-bar and will be used to tow a trailer carrying a 6.5m inflatable boat. Its off-road abilities will be essential to support the Marine Police Unit's remit to police 1,760 miles of coastline and 5,500 square miles of coastal waters in the area, whilst also ensuring the Underwater Search Unit can transport its team and equipment to any stretch of water in the region.
Alan Tait, Assistant Fleet Manager of the Transport and Logistics Department, Strathclyde Police, explains: "Delivering police services in the midst of Scotland's unique geography and climate requires a number of specialist units to complement traditional policing, and this new Eurocargo 4x4 is an essential part of these two teams.
"It represents a very capable off-roader with its credentials as a high-clearance four wheel drive truck not only being required for getting to the scene of an incident, but also to launch and recover boats into the water where there is rarely the luxury of a slipway. It is one of the most technically capable commercial vehicles in our fleet and we are expecting it to remain in frontline operations for ten years," he adds.
Plated at 10 tonnes, the new Eurocargo replaces a similar Iveco model which has been in operation since 1999. Its specification includes three differential locks as standard, a six speed gearbox and multileaf front and rear suspension. Power is provided by a 5.8 litre Iveco tector engine, which is capable of producing up to 183 hp at 2,700 rev/min and up to 650 Nm of torque between 1,200 and 2,100 rev/min.
The Eurocargo 4x4 joins a number of Iveco vehicles already in Strathclyde Police's fleet, including Daily vans, Eurocargo urban artics, Eurocargo horse boxes and a couple of Eurocargos used for transfer of persons in custody.
They will soon be joined by a fleet of 12 Iveco Daily 50C18 Police Support Units (PSU's), each of which are being built to transport up to nine fully equipped police officers to the scene of major incidents.
Strathclyde Police was formed in 1975 and provides a vast range of policing services on behalf of 12 local authorities, with 7,400 police officers and 2,800 police staff working round the clock. The Force is currently responsible for protecting nearly 2.3 million people across 5,371 square miles of Scotland — from Glasgow's lively urban areas to the rural remoteness of the Inner Hebrides — with policing services specifically tailored to the individual needs of the various communities.