Summit to Sea - From Kilimanjaro to Zanzibar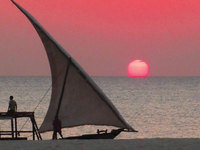 For anyone looking to combine three iconic travel experiences in Africa in just two weeks, World Expeditions is launching the perfect trip this summer, taking you from Kilimanjaro's summit to the white sand beaches of Zanzibar after game viewing at Tanzania's magnificent national parks.
Kilimanjaro, Wildlife and Zanzibar – Africa's Summit to Sea [New For 2015]
Departs June-October and December-February (15 days), from £3,190 per person
Summit Africa's highest mountain via the quieter Rongai Route, search for wildlife in northern Tanzania's renowned game parks and relax on the coast of Zanzibar:
The Ngorongoro Crater, the so-called "Garden of Eden", is home to more than 30,000 animals, including the last black rhinos and the highest density of lions anywhere in Africa.
Spot huge herds of elephants in Tarangire National Park and abundant birdlife at Lake Manyara.
Follow less trodden trails on your way up to the 'top of Africa' – ascend through multiple ecosystems and unspoilt wilderness and view native black-and-white colobus monkeys.
At 5,895m, Kilimanjaro is not only the highest peak in Africa but also the highest free-standing mountain in the world, commanding panoramic views of the surrounding plains.
Relax, explore (or both!) in Zanzibar – turquoise waters, exotic beaches and a history ranging from slave trading to strong Arabic links characterise the picture perfect Spice Island.
Commenting on the new trip, Gordon Steer, UK Manager for World Expeditions, said: "Going on a safari and climbing Kilimanjaro rank very highly on many of our customers' wish list and they can be easily combined with Zanzibar – relaxing on its idyllic beaches is the perfect way to conclude and celebrate the end of such a memorable African adventure.
Although at World Expeditions we offer tailormade private departures for all our Africa journeys, this is the easiest and simplest way to have three iconic experiences in one trip".
For more information and bookings, visit worldexpeditions.co.uk. World Expeditions' policy ensures there are no local payments. Prices do not include international flights, however these can be arranged on request.