Housebuilder brings new homes, jobs and investment to local community in Louth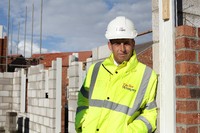 Taylor Wimpey is bringing a host of benefits to the Lincolnshire town of Louth, with the forthcoming launch of a brand new collection of new-build homes.
The proposed new development, on land to the east of Fulmar Drive, will comprise 144 much-needed new homes, including 43 affordable properties which will give local residents and key workers the opportunity to enjoy life in a brand new home within their own community.
The new homes will also provide jobs for local subcontractors and support for local companies during the five-year construction period – in fact, it's estimated the development will create 36 full-time jobs on site for each year of the build, and a further 55 in the wider supply chain.
Once the new residents move in, they're expected to spend a total of £720,000 on goods and services in the local area as they tailor their new properties into the homes of their dreams – while on average they'll spend a total of over £3 million in the wider economy each year and pay an estimated £150,480 in additional council tax revenue to the local authority.
The local council will also benefit from extra grant payments from the Government in the form of the New Homes bonus for increasing the number of homes in the area.
What's more, Taylor Wimpey will be making significant financial contributions and enhanced works towards improving facilities in the local area as part of the planning agreement totalling over £3.6 million, including:
£350,000 towards the local education
£10,000 for offsite drainage improvement works
£20,000 towards improvements to local transport
Works to a local pedestrian crossing before the first home is occupied
Improvements to the access and local highway
Creation of a new and accessible Public open space
A new sustainable drainage scheme on the development that will be a sense of place and create new habitats for wildlife over time
Dominic Harman, Managing Director of Taylor Wimpey East Midlands, says: "As a local housebuilder we are an important contributor to the local communities in which we build our new homes, by bringing investment, new facilities and new employment opportunities to the area.
"We are looking forward to bringing a wealth of benefits to such a lovely location as Louth with the launch of our new homes here. As one of the country's top housebuilders, we are a great company to work for, with industry-leading health and safety standards. We will be looking to identify new sub-contractors and tradespeople from within the local area to tender for work at this exciting new development."
Construction work on the new homes at Louth is proposed to start in the autumn of 2015, with the first new homes expected to be released for sale early in 2016.
The new homes in Louth are located on the north-eastern fringes of the town, nestled between an established residential area and open countryside.
Louth's historic town centre is within walking distance and offers thriving street markets and a wealth of independent shops and traditional stores, plus a cinema, a theatre, a leisure centre and a range of sporting facilities.
Contractors and local suppliers looking to find out more about opportunities with Taylor Wimpey in Louth can contact the Taylor Wimpey East Midlands Commercial Director Mr Mark Caines in the first instance by emailing mark.caines[at]@taylorwimpey.com
Further information about the new homes at Louth is available by visiting the website at taylorwimpey.co.uk, where people can also register to receive updates about the development. Details about other Taylor Wimpey developments across the region are available by visiting taylorwimpey.co.uk.