New Iveco's delivered to ALC in UK's largest ever Trakker deal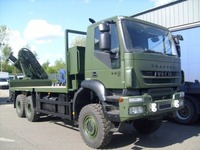 Iveco Defence Vehicles has delivered the first specialist 6x6 Trakkers to ALC, an Amey and VT joint venture, to provide the Ministry of Defence (MoD) with its 'C' vehicle fleet, covering civil engineering and rough terrain mechanical handling capability.
The delivery follows the signing of a significant contract with Iveco in November 2008 to supply 206 off-road Trakker chassis and marks the single largest Trakker order ever placed in the UK. It will see the 6x6 heavy trucks fitted with a range of different bodywork to support the 'C' vehicle fleet, which comprises all earthmoving plant, Engineer Construction Plant (ECP) and field Mechanical Handling Equipment (MHE) in use by the Armed Forces.
The first 33 vehicles supplied are all Truck Mounted Loader (TML) variants – a new versatile vehicle specified by ALC which combines the duties of several specialist vehicles, such as cranes, with multiple features built onto a single truck chassis. Each Trakker is mounted with a Mackworth flatbed body fitted with twist-locks for securing 20ft ISO containers, together with a remote-control Terex - Atlas rear-mounted lifting arm. These vehicles offer a wealth of stowage space for camouflage nets and poles, soldiers' personal equipment and lifting gear, together with other essential ancillaries required by the Army. They also include powerful exterior lights which can be used to help soldiers when operating during the hours of darkness.
Other task variants included in this order comprise two tipper models – the Medium Dump Truck (MDT) and Self Loading Dump Truck (SLDT) – which are both in the final stages of acceptance trials. They will also be joined by bespoke Well Drill Rigs and Volumetric Mixers.
The first Trakker TML was officially presented to Hamish Knox, Managing Director of ALC, at the DVD Show 2009 in June, which was held at the Millbrook Proving Ground in Bedfordshire. The presentation was made by Flavio Marchesoni, Sales and Marketing Director for Iveco Defence Vehicles, after which the TML, together with MDT and SLDT variants, were made available for customer demonstration around Millbrook's challenging off-road course.
Commenting on the delivery, Marchesoni said: "Winning this contract highlights the true versatility of the Iveco Trakker chassis, which is built to operate across demanding terrain and enjoys an excellent reputation in both the civilian and defence markets. It also marks Iveco's continued strength in supplying a wide cross-section of vehicles for operation by the UK MoD."
The new fleet is based on the Trakker AD380T45W 6x6 chassis, with all vehicles – with the exception of the MDT – sharing the same length wheelbase. This uniformity provides the Army with maximum flexibility within the fleet to rebody vehicles if necessary to meet operational needs. This also ensures the most cost-effective and efficient parts and logistics support.
Scheduled for production and delivery between June 2009 and the first quarter of 2010, the majority of the vehicles are expected to enter service with the Royal Engineers, many on deployment overseas. Several of the variants being built will include protected cabs enabling the Trakkers to operate even in high threat areas, together with selected vehicles being modified by Iveco for extreme climate operation.
ALC is supplying the new fleet to the MoD as part of a major 16 year private finance initiative (PFI) which was signed in 2005. Under the terms of the agreement ALC is responsible for delivering the required capability to Army units when they need it, where they need it and for as long as they need it. The vehicles and items of plant are delivered serviceable and ready to use, backed up by a complete contractor logistic support package.