Crown Wood is a breath of fresh air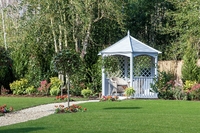 There is nothing like spending time in the fresh air and peace of the countryside. Cut grass, pine trees and a fresh breeze are among the nation's favourite smells, all ranking in the top ten in a poll conducted by AirWick. These are the scents that fill the air at Crown Wood in Midhurst, where Millgate is creating a collection of just eight deluxe detached properties, surrounded by a secluded 165 acre estate of mature woodland, pine trees and untouched nature.
The most evocative of the senses, smell plays a vital part in our decisions, behaviour and memories. Taking a deep breath of fresh country air is immediately relaxing, while spending time in nature is proven to boost wellbeing. At Crown Wood, each property sits within its own large landscaped garden, fringed by mature trees that blend into the woodland of surrounding the King Edward VII Estate, creating an idyllic and tranquil environment peaceful enough to hear a pine needle drop.
Jonathan Cranley, Sales & Marketing Director at Millgate comments: "When you arrive at Crown Wood, the first thing you notice is the smell of fresh air and pine woods and the peace and quiet – it is a special atmosphere that puts people into a relaxed and happy frame of mind. Many of our buyers value privacy and having somewhere they can get away from it all, which is why this environment is so perfect. We have made sure this exclusive feel extends to every aspect of the homes, with meticulous attention to detail in the specification and every creature comfort catered for."
These eight outstanding family homes offer vast accommodation ranging from 3,500 to 4,800 sq ft, with five bedrooms and triple garages. Their exterior architecture is designed in a traditional style influenced by the Arts & Crafts movement, which help them blend sympathetically with their picturesque woodland setting. Highest quality interiors boast every conceivable modern luxury and the latest, state of the art specification for a truly fabulous country style home.
The historic King Edward VII Estate is undergoing restoration and will offer a range of lifestyle facilities for buyers to take advantage of. At its heart are gardens designed by famous 19th century landscape designer, Gertrude Jekyll that are being carefully reinstated for residents to enjoy. The collection of listed buildings, once the King Edward VII Sanatorium, will be transformed into a swimming pool, tennis courts, gym and concierge service, as well as café and event space, providing more opportunities for residents to relax and unwind.
For those who love the peace of the countryside, Crown Wood is ideally situated within the beautiful South Downs National Park. Paths and bridleways stretch across the countryside in all directions from Crown Wood, providing plenty of opportunities to explore on foot, by bike or even one horseback. The charming market town of Midhurst is nearby, a gem of historic architecture, while Cowdray Park, the home of Sussex Polo and the Goodwood Estate are other local highlights.
Although situated in peaceful, rural surroundings, Crown Wood is well positioned for travelling, as the A286 runs through the town, north to Haslemere and south towards Chichester. The A272 provides westward links with Petersfield and the A3, with Billingshurst in the east. The nearest railway station is Haslemere, six miles to the north, which is on the main London Waterloo to Portsmouth line.
Prices at Crown Wood start from £1.8 million. For more information, email crownwood[at]struttandparker.com.