Eurocargos on the rise in Allied Bakeries fleet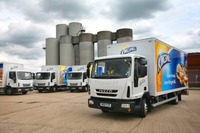 Iveco's decision to launch its latest Eurocargo model exclusively with an automated transmission and Euro 5 engine as standard has helped secure a major order from Allied Bakeries, a division of Associated British Foods plc.
Allied Bakeries placed the order for 93 new vehicles to replace the same number of older vehicles in its fleet following trials of a demonstrator from two different manufacturers.
Christopher Davies, Fleet Engineer at Allied Bakeries, famous for grocery brands including Allinson, Kingsmill and Sunblest, explains: "We were in the market to place an order for 93 new distribution vehicles, split between 7.5, 14 and 18 tonnes, and took the decision to trial demonstrators from Iveco and Daf.
"Both trucks performed well but only the Eurocargo was available with an automated gearbox and a Euro 5 engine as standard. This worked heavily in its favour, as paying for these features as optional extras just didn't make commercial sense after comparing the two trucks side-by-side," he adds.
Allied Bakeries' decision to adopt automated transmissions for its medium weight distribution fleet follows trials the company has already run with its tractors which recorded a notable improvement in fuel economy when comparing the two different gearboxes.
"We're confident the same theory will bring benefits to these new vehicles," adds Davies. "The great advantage of an automated transmission is that you can't over-rev the engine, so the truck is always in the right gear. It also prolongs clutch life and offers enhanced comfort and safety for our drivers, since routine traffic congestion these days means stop/start driving is commonplace."
The total order includes 55 Eurocargo 75E16S, which will be used for multi-drop urban distribution, together with 27 Eurocargo 140E22P and three Eurocargo 180E25P, for direct deliveries to larger stores and supermarkets across the UK. Additionally a further eight Eurocargo 140E18's fitted with a manual transmission have been supplied for driver training purposes. Supplied by Stormont Truck & Van, each vehicle has been mounted with a Don Bur dry freight box body and Dhollandia tail-lift and is expected to remain in operation for between 10 and 11 years.
Iveco's decision to launch its latest Eurocargo medium truck with an automated EuroTronic transmission as standard on all 4x2 models follows a strategy successfully pioneered with the Stralis heavy truck range in 2001. It sees each of the new Allied Bakeries vehicles benefit from a two-pedal automated EuroTronic gearbox, complete with a software control package developed to optimise fuel economy.
As an additional benefit, Allied Bakeries' decision to adopt Euro 5 technology ahead of the 1 October 2009 deadline when Euro 5 becomes mandatory on new vehicles means they are eligible to receive a combined discount of £2,785 per year in Vehicle Excise Duty via the RPC (Reduced Pollution Certificate). Valid for the duration of the new fleet's life, this discount is projected to total £27,850 for the 93 vehicles over the projected 10 year lifespan.
The new trucks join a mixed fleet of approximately 1,000 commercial vehicles operated by Allied Bakeries, with 35 per cent supplied by Iveco.