Elliott Baxter's bright outlook for yellow Stralis rigids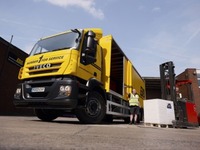 The UK's largest family-owned independent paper supplier, Elliott Baxter & Co Ltd, has added a pair of new 26 tonne Iveco Stralis Active Day rigids to its fleet to target new areas of business in the North of England.
One vehicle will operate from the company's new branch in Birmingham which opened in March 2009, whilst the second will be based in Manchester. Together, the two Stralis AD260S33YP/S's join a total fleet of 95 commercial vehicles and each benefit from rear-steering axles. Their arrival follows expenditure of over £1 million on new commercial vehicles in 2008, which included the arrival of eleven 18 tonne Eurocargos and eight similar 26 tonne Stralis rigids.
Supplied by Guildford-based Iveco dealer Grays Trucks, the two new Stralis AD's have been designed specifically for short-haul distribution and are each fitted with Don-Bur slide-a-side bodies with cantilever tail-lifts. They will be used for delivering paper stock direct to commercial colour printers.
Phil Bourne, Logistics Director at Elliott Baxter, says: "We've been purchasing Iveco's for many years and find the Stralis and Eurocargo models well suited to our fleet. They offer competitive whole life costs and we get excellent back-up from Grays Trucks, which work very hard to support us.
"Our new vehicles are normally built to order but these two models were available from stock complete with rear-steering axles. This is something we haven't tried on the fleet before but we will be monitoring their performance closely and asking our drivers for detailed feedback," he adds.
Like all Stralis' in the Elliott Baxter fleet, the new vehicles are fitted with Iveco's automated EuroTronic gearbox which offers either fully or semi-automated shifts. This helps to provide a safer and more comfortable driving experience as the driver can give the road ahead his maximum concentration, rather than having to worry about changing gear through a traditional manual gearbox.
Furthermore, the Stralis AD benefits from the same air-suspended seat with four separate comfort level settings as the flagship AS range, with the cab ergonomically designed to ensure all important information, warning lights and controls are grouped on the instrument binnacle, the steering wheel and its stalks. This enables the driver to control the decompression engine brake, hydraulic retarder, radio and cruise control without taking his hands off the steering wheel.
Both of the new 26 tonners are powered by a 7.8 litre Euro 5 Cursor 8 engine which is capable of producing up to 330 hp between 1,660 and 2,400 rev/min, and up to 1,400 Nm of torque between 1,080 and 1,660 rev/min.
As an additional benefit, Elliott Baxter's decision to adopt Euro 5 technology ahead of the 1 October 2009 deadline when Euro 5 becomes mandatory on new vehicles means they are eligible to receive a discount of £370 per vehicle, per year in Vehicle Excise Duty via the RPC (Reduced Pollution Certificate). This discount is valid for the duration of the new vehicle's life.
Each Stralis will be used for a mixture of regional trunking and local deliveries five days a week, clocking-up approximately 80,000 km a year and expected to remain in operation with the company for six years. Across the fleet, more than 1,400 deliveries are made each day.