Iveco secures Stralis repeat order with KN Drinks Logistics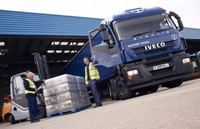 KN Drinks Logistics, a wholly owned subsidiary of the Kuehne + Nagel Group in the UK, is taking delivery of 164 Iveco Stralis Active Time tractor units to complete the single largest Stralis order ever placed by a customer in the UK.
Supplied by Iveco Capital on a three year contract which includes full repair and maintenance, the Stralis AT440S45TX/P 6x2 twin-steer tractor units are plated at 44 tonnes and replace 149 similar models which were supplied by Iveco in 2006.
Trevor Hewitt, Group Fleet Engineer at Kuehne + Nagel, explains: "Our first Stralis order three years ago followed an extensive evaluation of vehicles from a number of different manufacturers. The decision to replace like-for-like follows the proven performance of the vehicles in our fleet, combined with the competitive whole-life costs of the Stralis across the three year contract."
As the largest national drinks distribution network in the country, KN Drinks Logistics is using the vehicles for the dedicated bulk movement of beverages from production sites to the company's five regional distribution centres, as well as to large multiple retail customers. They will operate in conjunction with a mix of 13.6m tri-axle curtainside trailers and 9m tri-axle skeletal trailers.
Additionally, each vehicle has been specified to include alloy wheels and a MiX telematics system which connects through Iveco's on-board Fleet Management System (FMS) interface. The FMS is included in all new Stralis' as standard, allowing full connectivity with aftermarket telematics systems without the need to specify other factory-fitted options at additional cost.
The Stralis AT is purpose-built for distribution and fleet operations and features an interior offering ample storage space, double bunks and a central internal height of 1.82 m to ensure the driver has plenty of room to stand up. The driving position also includes an air-suspended heated seat with lumber support which adjusts for reach, height and rake – standard throughout the range.
As the most popular model in the AT range, the Stralis AT440S45TX/P features a powerful Euro 5 10.3 litre Cursor 10 engine which is capable of producing up to 450 hp between 1,550 and 2,100 rev/min and up to 2,100 Nm of torque between 1,050 and 1,550 rev/min. Driven through a 12-speed EuroTronic gearbox, it offers an impressive combination of performance, economy and driveability, with the gear change controls incorporated into the dashboard and right-hand steering column stalk to ensure the best possible cab ergonomics.
The new fleet will be serviced by Iveco's nationwide dealer network, with each vehicle expected to cover up to 120,000 miles a year whilst on the road six days a week.