Help Nepal by visiting Nepal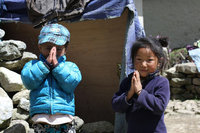 Three months on from the devastating effects of the April 2015 Nepal earthquake and aftershocks the country is making progress in its efforts to attract tourism back. The earthquake struck between the capital Kathmandu and the city of Pokhara, severely impacting the local communities and landmarks. Rickshaw Travel was overwhelmed by the response from their customers enquiring after the wellbeing of the local partners they work with in Nepal. Now their thoughts are on the future and how travellers can help this beautiful country and its people recover.
As a country reliant on tourism, the Nepalese people are welcoming future travellers with open arms. These include Rickshaw Travel's local partners who feel positive about the future. They said: "Earthquakes may come, and earthquakes may go, but the supreme natural beauty of Nepal lives on forever, as does the indomitable spirit of its people"
The FCO lifted its advise against all but essential travel to the majority of the destination in early July and UNESCO has removed Seven Protected Monument Zones around the Kathmandu Valley from the 'Danger List', which means Kathmandu is safe and has the green light for tourists to visit. Although there are still warnings in place regarding travel in Nepal, many regions are getting back to normal with some trekking routes preparing to open for the peak season this autumn. Senior team members from Rickshaw Travel visited Kathmandu and the surrounding area to offer their support to their local partners and find out what it's like to travel in the country since the earthquake. They reported that life in Kathmandu is slowly getting back on track, hotels are open and ready to welcome guests and the country is as beautiful and hospitable as ever.
Rickshaw Travel's emphasis on meaningful travel experiences and very special homestay options offers travellers the opportunity to meet the locals and enjoy the true culture and spirit of a destination. They also work with local community-focused projects that travellers can contribute to and get involved in. In Nepal Rickshaw Travel are proud to support the International Porter Protection Group. They ensure the well-being of the local guides and porters trekking through the Himalayas, for example by paying for their medical care and ensuring the upkeep of a rescue post. Guests can also receive a 'Namaste!' with their homestay trip in Panauti as they help out with the evening meal in a local community based tourism project.
The following Rickshaw Travel's bite-size trips provide the opportunity to get behind the scenes in Nepal and interact with the local communities and projects:
Namaste! Warm Welcomes in Nepal

The Nepalese are known for their warm welcomes and this tour gives a rare insight into their hospitality and culture whilst helping support the local community. Travellers are collected from their hotel in Kathmandu and transferred to the small town of Panauti, one of the oldest in the Kathmandu valley. Here they'll find narrow alleys paved with stone, terracotta dwellings and red-brick temples and they will be welcomed into a local family home for their stay. According to Rickshaw Travel's partners in Nepal almost all the buildings in this part of greater Kathmandu are still standing and less than 1% require reconstruction while its streets are busy as ever. Depending on the time of year, guests can help out with the rice harvest or other farming activities or lend a hand in the kitchen with some traditional Nepali home cooking. Guests can expect tasty dhalls, aromatic cumin potatoes and spicy ginger tea during their stay. This homestay programme is part of a Nepali community project where local women open up their homes to visitors. Not only does this allow tourists to learn more about the Nepali psyche and gain a better understanding of the local customs, but also provides these women with a much needed source of income.
Prices for the bite-size trip start from £65 per person, based on two people sharing. This includes one night in a basic Nepalese family home, meals and transfers from Kathmandu. Those wishing to spend more time in Panuati can extend their stay to two nights, giving more time to explore the nearby sights of Khopashi, Namobuddha and Kanteshowri. Prices for a two night stay cost from £95 per person.
At Home with the Tibetans

This cultural tour provides a special insight into the daily lives of Tibetan refugees living in Nepal. Many Tibetans fled to various settlements around Pokhara because of the political situation in their home country. Although this region was badly damaged by the earthquake the village is getting back on track and the Rickshaw Travel homestay escaped the destruction. Each well-organised settlement has its own gompa (Buddhist monastery), a stupa, a school, a medical centre and a carpet-working group and the local buildings are typical of the striking Tibetan architecture. With the help of a local guide guests will learn about the lives of these people and their families. They will visit a Tibetan Buddhist monastery and school and can help the family prepare and sample some of the local specialities including Tibetan yak butter tea - an unusual combination of salt and butter made from yak milk - reportedly an acquired taste. Travellers spend the night in a Tibetan family home. The accommodation is simple but offers everything needed for a comfortable stay and the family are ready and willing to welcome guests. This authentic bite size trip is ideal for anyone who wants to get off the beaten track, offer their support and see a completely different Nepal.
Prices for the bite size trip start from £95 per person, based on 2 people sharing. This includes basic accommodation in a Tibetan family home with breakfast, transfer to Tibetan settlement some meals and a guided tour.
Into the Jungle with the Tharu

To get even further off the beaten track this trip will give guests a glimpse of real jungle living and bring them closer to the welcoming Tharu community, with their own unique language and customs. Guests will sleep in a jungle tower, cook with the gentle Tharu people and can give the local elephants a good scrub down. A mix of culture, adventure and wildlife all rolled into one, this trip is a truly heart-warming and eye-opening experience.
The 2-day bite-size trip starts at £85 per person which includes accommodation (price based on two sharing), breakfast, dinner and an English-speaking guide.
These bite-size trips can all be combined with Rickshaw Travel's specially selected Nepal trekking options so travellers can build a trip to suit their requirements. These options include the new 'Mountain Ridges to Hidden Villages' 6-day trek detailed below. Rickshaw only work with local guides, porters and small-scale family-run accommodation to ensure they are giving back to the community every step of the way.
New: From Mountain Ridges to Hidden Villages

Trek between soaring mountain peaks through a remote region of the Annapurna Mountain Range. The local people here have collaborated with the United Nations Development Fund to create a unique trek where hikers will stay at eco-lodges and family homes. This trekking experience will give guests the opportunity to view the culture and village life of the locals, see wonderful wildlife in their natural Nepalese habitat and be surrounded by beautiful mountainous backdrops. Guests will be welcomed into local homes, some of which being charming eco-lodges. They will fall asleep after feeling the comforting warmth of home-cooked Nepalese meals in their stomachs and wake up to watch the sun rise over the Annapurna Mountain Range.
The 6-day trek is priced at £395 including accommodation (price based on two people sharing), all meals during the trek, return transfer from Pokhara, English speaking guide and 1 porter per 2 people.

Rickshaw Travel Senior Manager Lloyd Kane said: "Our thoughts are with our friends in Nepal after the devastating earthquake. Tourism is one of the key contributors to their economy and so we are keen to encourage visitors back to this wonderful destination. Meaningful Travel is all about having enriching experiences, both for the individual traveller and for the local population. We believe that genuine immersion in local cultures builds tolerance and understanding and is the best way to experience and help a destination to rebuild itself after such a crisis."
To find out more about Rickshaw Travel's projects and on-going developments and to see the full range of trips and itineraries to Nepal, visit rickshawtravel.co.uk.