Brits are most critical of stomachs, teeth and waists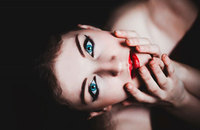 British women love their eyes and hair — but hate their tummies, a new study has revealed.
Eyes were found to be the most-loved part of the body for both men and women, while females said they are also happy with their smile, boobs and nails.
Women least like their tums, followed by 'love handles', waist, teeth and legs. Men hate their beer bellies, hairlines and worry about 'moobs'.
Men are content with their eyes and hands, but are equally critical of their stomachs, teeth and waists.
However a quarter of gents claimed not to be bothered about any parts of their anatomy, compared to ten per cent of ladies.
Jennifer Julian, Head of Marketing at LA fitness who commissioned the research, said: "The most important thing is feeling great, but looking great can play a major part in achieving that.
"The results show people are happy with much of their appearance but there are some bits they'd like to refine.
"Thankfully, toning-up saggy areas or reducing one's waistline is absolutely achievable with lots of support readily and willingly available."
Nearly 60 per cent of women are worried about having a 'muffin top', with four in 10 concerned about 'love handles' and 'bingo wings'.
For chaps, the biggest anxiety – having a 'beer belly' – is shared by 35 per cent. Love handles are a worry for 23 per cent, while 21 per cent of blokes try not to pull their hair out over fears of a receding hairline.
Despite these concerns, men and women alike may feel reassured to know both groups look for a nice smile and twinkly eyes when seeking a partner. Third on the check list for men is boobs and for women its teeth.
In the looks department, men and women rated themselves as five out of 10 on average, while of the 70 per cent who have a partner, most were a little more generous, awarding their other halves seven out of ten.
David Beckham and Daniel Craig have the body gents most aspire to, while Michelle Keegan and Holly Willoughby lead the way for the ladies.
Just over a third of men are generally happy with their bodies compared to 30 per cent of females. Conversely, 14 per cent of chaps and 22 per cent of women are unhappy with their physiques
Approximately four in ten women receive compliments about their eyes and their hair, with over a fifth claiming they never receive any adulation at all.
Sadly for men they don't fare better with nearly half saying they do not receive compliments.
However, about a quarter have been praised for their eyes and 14 per cent for their bums.
Four in ten males and six in ten females say they have tried to firm up their bodies but have ended-up throwing in the towel with three in ten people finding the healthy lifestyle too much of a commitment. 60 per cent say they have been unable to stick to their fitness plan.
People believe such anxieties are here to stay with most – 56 per cent – believing there will never be a time when they won't be worried about their appearance.
Nearly eight in ten said they have no gym membership with a third saying they don't want to be tied into a contract.
Jennifer Julian added: "Keeping trim doesn't have to mean making dramatic changes to our lifestyles – most of us aren't in training for the Olympics!
"It's about setting targets which are achievable and keeping to a routine which is manageable.
"We offer no contract and no catches so there'll be no hidden surprises for you this summer. From pools to classes, we're the all-inclusive gym."