Is this the best festival for children? - Mummy where are the Larmer's?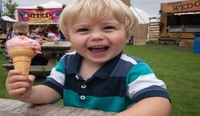 What makes the quirky little Dorset Festival held at the Larmer Tree Gardens so special? And is it ideal for families? Speaking to LT'S Anna Harriott, she thinks it is partly to do with the unique makeup of the Larmer Tree Team. She says ' We are the Larmer Tree family, we come together for two weeks of fun.' Anna works in children's theatre for the rest of the year, but brings her skills to Larmer Tree, with full schedule of workshops, performances and even baby yoga to plan, she does a marvelous job.
Looking for inspiration I'm sat writing in the neat eating 'alcove' which sits outside the closed gates to the main arena, which in fours hours will see up to 5000 people get down to 'Delilah'. I've listened to Sir Tom Jones support act The Shires sound test, a marvelous song long warm up, taking in the atmosphere, which is unique to Larmer Tree.
I'm joined by a group of twenty somethings, who are enjoying a delicious curry. Larmer Tree celebrates 25 years in 2015 and one of my tablemates has enjoyed the last 10. I asked, "As a child what do you remember best about Larmer Tree?" To my surprise she answered "The performance from Cat Empire, they are an Aussie band with a Ska/Cuban feel" . Wow, educated answer from a young patron!
Larmer Tree is cool, its small, its fresh and its unpretentious. The feel is that of an event that prefers to stick to its ethos rather than be a money spinner. It was refreshing to find that traders are asked to use wooden knives and forks rather than plastic. As a parent, I appreciated the range of food on offer. You will find traditional burgers hemmed in by choices of Goan seafood or home cooked pasta. We ordered two portions of pasta with garlic bread for the children, only £3 each. Larmer Tree doesn't police trader pricing and I did see burger for £7.50, it was organic but I would like to see Festivals' in general set a max price for a captive audience.
Festival organisers have a put a lot of thought into child safety with a site speed limit of 5mph, no cars allowed in the family camping area, wristbands for little ones, lost and found team and an abundance of volunteer stewards to assist you.
We loved the effort put into making families feel welcome and comfortable. The breastfeeding area, is not a sweaty tent to hide the crowd away from the dangers of a bare nipple but a home from home relaxing haven. Born from organisers own experiences as parents, lunch is a quieter downtime at noon to help parents settle children down to eat, at low tables with either a picnic or healthy food options.
Larmer Tree festival runs from Tuesday - Sunday. I would love to see organisers open the children's area on all weekdays, when the festival is quieter and more relaxing for parents with young children. The array of children activities is awesome, for 1-3 yr olds; baby yoga, baby massage or music workshops. For older children carnival shows, juggling classes, DIY art, pitts bread workshop and three days of back to back shows!
As a mother, I felt comfortable to let my children (4 yrs and 2 yrs) run around with supervision. We all had a dance to the fabulous Ben Waters in the Arc. Although festival goers are enjoying pints from the 'Village Inn', I didn't hear any swearing or feel uncomfortable at any time.

As we live locally, we decided to take the children home and enjoy the evening entertainment, which was Sir Tom Jones. The venue felt intimate, uncrowded, excellent sound quality and ethereal. There was clearly a lack of disabled viewing which needs to be remedied. Tired children were tucked up in buggies or were small shapes with huge ear defenders (bring your own £15 on site) lolling on parents bopping shoulders.
When the festivalgoers have all gone home, the Larmer Tree Gardens, that remain and make such a unique backdrop to the festival are open to the public. Formerly the Fox Rivers estate, these beautiful gardens are a real delight and little known even to those living in Dorset.
Written by Leanne Hemingway of Dorset Cottage Holidays, see my blog at dhcottages.co.uk/latest-news/ for more reviews and advice for parents visiting Dorset.