Time travel at England's Time Capsule Castle this year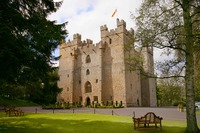 One of England's most lovingly restored and best surviving castles of its time, Langley Castle in Northumberland, is adopting the strap-line of 'The Time Capsule Castle' and offering guests the opportunity to not just enjoy a truly luxurious stay and excellent food, but to time travel as well.
Amazingly, Langley Castle, which has achieved many tourism accolades on a national and regional scale, is still a secret destination for some, perhaps because its part of Northumberland, just ten miles from World Heritage Site Hadrian's Wall, and close to Hexham and its magnificent Abbey, is still a secret destination for some.
Those who do have the pleasure of visiting Langley Castle, discover that its seven-foot walls hold many historical secrets, spread over more than 600 years, not least, a rich Jacobite history that has seen two former owners beheaded at the Tower of London, for their part in Jacobite Risings.
Visitors will be instantly wowed by the sweeping drive up to the castle, the staircase with its shining suits of armour and the beautiful drawing room, bedecked with tapestries, silver pennies from the reign of King John, stunning curtained window seat and comfy sofas in front of the log fire.
They will then fail to miss the breathtaking Garderobe Tower, which exudes a Hogwarts-type feel, viewed from the castle staircase, and displays the finest remaining examples of medieval garderobes (latrines) in Europe. With twelve in total, (four on each floor), this rare feature within a castle is a sign of the castle's history and its large garrison – at the centre of a turbulent and once lawless land plundered by the Border Reivers. Decorated with glorious heraldry and other finery these days, the garderobes are a sign that the visitor is in a very special place.
Langley's accommodation is equally impressive, and offers choices to suit different budgets. The Castle has seven CastleView Suites in the grounds, some with separate sitting areas with sofa bed, which are ideal for families.
CastleView rooms are further accommodation in the grounds, located just 80 metres from the castle and housed within a conversion of a listed building. Available as both standard and superior rooms, these also offer all mod cons and flexible options for families.
Four Deluxe Castle Rooms are housed within the castle. All are individually designed and have four-poster beds and luxurious bathrooms. They also boast romantic window seats, set into the seven-foot walls, which offer tranquil positions from which to view the beautiful castle grounds. All four are named after a former owner of the castle or Barony of Langley and some offer inter-connecting doors, which enable family groups to take two rooms and have them feel like one family space.
At the top end of the accommodation scale, there are five Feature Castle Rooms, offering the ultimate in luxury, from their chandeliered high ceilings, to features such as spa baths, sunken bath, sauna and dedicated 'dressing' room, depending on the individual room. Again, Langley's history is referenced in the names of these rooms and visitors can learn more about the past characters who have shaped the castle's history over more than 650 years.
Add to this exceptional food, from Michelin standard chef, Daniel Grigg, who has been appointed to help Langley acquire Michelin status, and it is an appetising proposition for the discerning visitor. Daniel already has his Liver, Bacon & Onion recipe, featuring fois gras ganache, Iberico ham, onion textures and powdered coal, in the Great British Cookbook.
To convey its place at the hub of centuries of history, Langley has this year created a daily Guided Battlements Tour, starting each day at 10.15am, and costing £4.95 for adults and free for children. This includes the viewing of a 15-minute video that sets Langley's history in context, the chance to take pictures of the surrounding countryside (including Hadrian's Wall) from the top of the castle and various interesting features en route to the top of the castle, including the old portcullis boss and mason marks.
Langley Castle is also offering a 'Three Millennia', time-travelling jaunt through history, with narrative and some re-enactments from local Northumberland experience provider, Wild Dog Outdoors.
The Three Millennia experience covers: Roam with the Romans (£40pp); Castles of the Coast (£90pp) and Tour of the Tyne (£75pp). Each is a tour for between 2-4 people, so is an ideal experience for a couple, family, or small group of friends, to enjoy together, during their stay at Langley Castle.
Roam with the Romans is a half-day tour taking in the vibrant history of World Heritage Site, Hadrian's Wall. Langley Castle lies close to important points on the Wall, such as Vindolanda Fort and Museum and its excellent collections, Housteads Fort – a frontier fort – and Chesters Fort – a bathhouse on the frontier. This tour brings the activities of the Romans, and the native Celts, to life, transporting visitors back to AD122.
Castles of the Coast is a full-day, 8-hour tour that takes visitors back in time to the Middle Ages and on to the Northumberland Coast. As Northumberland was the 'Border County' between England and Scotland, it is not surprising that so many battles have been fought throughout the county in the past. Until the Union of the English and Scottish Crowns, which came with the accession to the throne of James 1, in 1603, life in these debatable lands could be extremely dangerous. This tour will highlight life in those times and how these struggles have left an imprint in the landscape and created a rich and colourful historical past, full of legends and folklore. Northumberland has more castles than any other part of England, because of its Border location and this tour will help you explore some of the most famous.
Tour of the Tyne brings the visitor back to the modern era, allowing them to visit Newcastle Quayside, the Tyne Bridges, the Sage music and arts centre, Gateshead, and Baltic (centre for contemporary art on the River Tyne). Newcastle-upon-Tyne is a vibrant city, with heritage at it's heart and this tour will allow you to see how much is on offer, whether you appreciate world-class culture, award-winning dining, inspiring historical sites, fantastic shopping, or acclaimed architecture, all underpinned with the famous Geordie spirit.
These tours are ideal for those booking a Three Millennia Break package at Langley Castle, which costs from £77.50pppn for a CastleView room, in the castle grounds, or from £122.50pppn for a room within the castle. This is for two people sharing a double room and includes full Northumbrian breakfast.
The tour package can be added to the accommodation, by calling Wild Dog Outdoors on 01434 688386, to pre-book.
Visit langleycastle.com for more information.