Team Litchfield wins Ten Of The Best Competition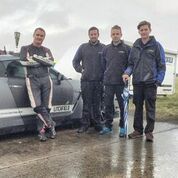 Ten of the Best, or 'TOTB' as it's affectionately known, has long been the yardstick by which European tuners have been judged. This year, the outright winner was a fully street legal Nissan GT-R prepared by Gloucestershire super-tuner, Litchfield.
TOTB pits the fastest performance cars in the country against each other over three demanding disciplines; Quarter Mile Drag Race, Top speed over a standing Kilometre and a Handling Circuit. This year, Litchfield was asked by three customers to help them prepare their cars for the event.
The overall winner of the event would be the car that scores the most points, and to add to the fun there is a separate team competition with large support from Subaru, Mitsubishi and Nissan clubs, each one vying for this year's top spot.
The cars Litchfield prepared were already exceptional and only needed straight forward updates and dyno tuning to make sure they were ready. All are fully road-legal street-spec cars.
Martin James's LM1 is no stranger to UK circuits with the owner regularly attending events in his 1,000bhp monster. This LM1 packaged car is fitted with the firm's 4.6 litre Red Top Engine, Litchfield Manifold kit with BorgWarner 7163 EFR turbos, Litchfield upgraded fuel system, Litchfield intake manifold kit, Syvecs ECU mapped in-house, Litchfield/Bilstein prototype track suspension kit, Dodson Motorsport complete gearset with additional gearbox upgrades, Alcon CCX ceramic brake kit and Michelin Cup 2 tyres.
Prior to TOTB, Litchfield's techs retuned the car for race fuel and the result was a fantastic 1,109bhp at just 1.65bar of boost! With 720lbft available from just 2,800 rpm and peak power coming at 7,640 rpm the power band on this car is simply huge!
Alex Robinson's stunning white LM1000 GTR had just returned from a massive 5,000 mile European tour and came straight in for a service and mapping for Race fuel. On V-Power the car produced 1,030bhp at 1.8bar and 1,116bhp at 2.1bar on race fuel.
Alex's car has Litchfield's 3.8 litre Sport Engine, the pretty JCR carbon inlet Manifold, Litchfield Manifold kit with 7163 EFR turbos, Litchfield upgraded fuel system, EcuTek RACEROM software using the very latest updates, Litchfield Suspension kit, Dodson complete gearset with additional gearbox upgrades, a Litchfield ceramic brake kit and R888 track tyres.
Will Chappell's GTR is one of the company's favourite 'Q' cars as nothing on the outside shouts about the power it possesses - and what power! It produced over 1,050bhp at 1.8 bar on Shell V Power and 1,160bhp at 2.1bar of boost on a 50% Ethanol and V-Power blend. Prior to the event, Will visited Litchfield for a service and upgrades to his gearbox. At the limit of his current injectors this car wasn't able to run any more ethanol or boost, but ultimately has the potential to make over 1,200bhp thanks to its impressive engine spec.
Will's GTR also has the LM 3.8 litre Sport Engine fitted along with a Litchfield Manifold kit and 7163 EFR turbos, Litchfield upgraded fuel system, Litchfield intake manifold, EcuTek RACEROM software using our latest updates, Litchfield Suspension kit, Dodson complete gearset with additional gearbox upgrades and road legal drag tyres.
TOTB attracts some furiously quick track and drag cars so it requires something pretty special that can compete in each event. Thanks to a combination of Martin James' driving skill and the faultless power delivery of the LM1 GTR, the duo performed superbly all weekend and won the overall title!
Martin's first run on the handling circuit put him straight into the overall lead so he moved on to runs in the high speed event where he achieved an impressive 191mph. Straight after this he lined up for the quarter mile run, which after a few attempts netted him an incredible 9.7 seconds - despite being on Michelin Cup 2 track tyres. A few quick adjustments to his rear damper settings were seemingly all that was needed to swap between disciplines. With great points achieved in the power events Martin returned to the handling circuit to see if he could improve his time but the track conditions meant he could only make slight improvements on his already blistering time.
It's a stunning achievement for Martin to win the event on his first go and it's clear that he already has exciting plans on how to be even faster next year!
Equally impressive was Will Chappell's 3rd overall with his daily driver. Will's first run down the runway produced an astonishing 196mph whilst still running 1.9 bar of boost. Will moved onto the quarter mile event where he laid down multiple 9.30 sec passes, proving the cars consistency. After solid points had been racked up. Litchfield's tech team decided to review the car's data logs. Changing Will's launch settings with the EcuTek software allowed the car to produce the 2.1 bar that it had been mapped for on the dyno. His next run yielded an improved 60ft time of 1.580sec (down from the 1.61s) and his terminal speed increased to 163mph however a slight mistiming of a gear change meant Will's time once again was 9.30, much to everyone's amusement.
With the weather turning and the rain beginning to fall Will decided to see if he could improve on his top speed with the higher boost. Despite wheel spin through much of the first 4 gears and the mapped traction control working overtime, he managed a slight 0.2mph quicker and left everybody present wondering just what speed he might have achieved in the dry! Hindsight is a wonderful thing but Will drove his car home with a massive smile, the honour of being the quickest R35 GTR over the quarter mile and a trophy for 3rd overall, so fair to say that he was a happy camper!
Alex had a much easier commute to the Elvington venue with a relatively short drive from his home in Hull. Alex was the first car out onto the drag strip and probably did more passes than anyone, consistently recording 9.6 second quarter mile tickets. His best run of the day was 9.58 seconds which was brilliant considering he was running R888 tyres compared to the slightly quicker guys on their drag radials. Alex also completed a great top speed run of 187mph proving what a great all-round package his LM1000 is.
The arduous nature of the event took its toll on many of the competitor's cars so it was satisfying for Team Litchfield to have all three of its customers enjoy a complete lack of issues throughout the two days of competition. It is also a testament to the hard work all of the whole Litchfield team put in.
Commenting on his the impressive results of his team and clients, Litchfield founder, Iain Litchfield, said, "It has been a real pleasure to work with such enthusiastic customers and helping them to build their dream GTRs. We are absolutely delighted that the cars performed so well for them and look forward to helping with their future plans. Special thanks must go to our technicians Will, Scott and Dan who were on hand to help the winning GTR team throughout the weekend."
For more information, visit litchfieldimports.co.uk.