Put the glamour into business travel with laterooms.com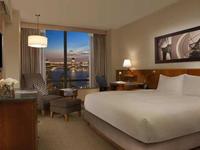 Travelling for work isn't always as glamorous as it's sometimes made out to be. With long haul flights, delays, changeovers, and a packed schedule of meetings, a great hotel is more than just a perk of the job - it's vital that you stay somewhere that will keep you sane.
LateRooms.com customers said they look for a hearty breakfast and free, fast Wi-Fi when working away. So with this in mind, take a look at these handpicked hotels that mean you can stay business class, even if you are travelling economy.
Millenium Hilton, New York
Located in the heart of New York City's bustling financial district, Millenium Hilton is just a stone's throw away from Wall Street. And if you're in town to organize an important event, help is on hand as the hotel has a team of experienced events planners that will help you organise everything to the last detail.
With a 24-hour business centre, you won't need to worry about the logistics of setting up conference calls, either. And if you need to unwind, the heated, glass-enclosed pool overlooking Ground Zero should do the trick.
From £354.45
Park Plaza Wallstreet, Berlin
You can't get more business-like than a hotel inspired by the New York Stock Exchange, and this is what greets you when you walk through the doors of the Berlin Park Plaza.
With meeting rooms, an on-site business centre and more free wireless hotspots than you can shake a schnitzel at, your corporate needs will be well tended to as well.
From £65.98 per night
Raddisson Blu Hotel, Dubai Deira Creek, Dubai
This luxurious hotel, situated in the hustle and bustle of Dubai's business district, has a spa on-site meaning you can relax in the sauna and have a massage after a hard day's work.
But if it's all work and no play, the hotel also boasts state-of-the-art conference, meeting and exhibition facilities, perfect for those last minute conference calls that always seem to crop up.
From £93.33 per night
Catalonia Passeig de Gracia, Barcelona
The Catalonia Passeig de Gràcia hotel is a just a quick cab ride away from the Fira Montjuic train station and old town Barcelona is just around the corner, so if you stay at this one you can enjoy easy access to central meeting locations while experiencing authentic Spanish culture.
End your busy day in the gastro bar where you can enjoy authentic tapas or opt for the hotel restaurant for exquisite dinner. Catalonia Passeig de Gràcia is also famous for its excellent breakfast, which features a deluxe buffet – perfect for setting you up for that all important meeting.
From £152.80 per night
Hilton La Defense, Paris
Sitting just moments away from Paris' Grand Arche, the Hilton La Defense is as smart as it is conveniently located.
With its business corner and gym both open 24 hours a day, you really can work and work out at a time of your convenience. And if you want a bit of downtime, be sure to wander down the Champs-Elysées, which is only a baguette's throw away.
For more information, visit laterooms.com.