Roger Clark Motorsport beats the world's best at Goodwood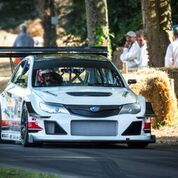 Leicestershire based Subaru specialist Roger Clark Motorsport (RCM) recently stunned the automotive world by beating the world's greatest drivers, teams and cars at the prestigious Goodwood Festival of Speed in West Sussex. The hill climb sprint at this event is hotly contested – and winning it against factory backed teams is a huge achievement for this longstanding family business.
Brothers Matt and Olly, sons of the late, great rally legend Roger Clark, already have many trophies and titles to their name – adding to the already impressive tally of their father. Winning at the prestigious Festival of Speed however takes something really special. The world famous event, held at the Goodwood estate in Chichester, is widely considered to be the greatest motoring spectacle on the planet each year. Packed with factory teams, celebrity drivers and the cream of the world's rarest and most valuable racing machines, manufacturers spend months planning on which car and driver to run up the hill in front of the world's media in pursuit of that elusive fastest time. With many millions watching globally on a live TV stream and almost a quarter of a million fans watching the event live, winning here comes with significant bragging rights!
Affectionately known as 'The Gobstopper II' – due to its conversation-halting impact, Olly's steed would be a bespoke Subaru WRX STI racecar, hand-built by his technician brother Matt in the RCM workshops and capable of delivering almost 900 horsepower – or about the same as a modern F1 car! Although it may bear some resemblance to a showroom model, this car really is all RCM's own work. With its carbon fibre bodywork, bespoke aerodynamics and custom built drivetrain, the car proved to be quick during the first qualifying runs at the event – despite Olly never having been able to drive the course before. Unlike other motorsport events, there is no pre-event testing at Goodwood, meaning that Olly would be competing against veterans of the track, but without their extensive knowledge. And, as many videos clips of the event show, it's very easy to get it wrong here, with even the most accomplished of drivers falling foul of the track's demands. Proof of this was 'World's Fastest Man' and Bloodhound SSC driver Andy Green ploughing his Jaguar XJ racer into the bales at the infamously tricky Molecomb corner!
Olly was able to keep an impressively clean sheet throughout the event though, improving his times with each run and beginning to seriously worry the factory teams. Going fastest on the very first day, it was clear to see that Olly's driving talent, coupled with Matt's ability to set up the car with the RCM team were an unassailable combination. Running with 'just' 850 bhp in order to deliver maximum useable power, Olly would go on to record an incredible overall time of just 44.91 seconds – beating cars like Toyota's own 'Pike's Peak' winning car, and even several iconic F1 machines like the Hesketh-Cosworth 308E, driven by Michael Lyons.
After being presented with the winner's trophy by Lord March himself, both brothers were understandably elated. "Winning at Goodwood really is the realisation of a dream for us both," beamed Olly. "It was a huge honour just to be asked to attend, but to actually compete and win against such incredible cars and such truly awesome drivers doesn't feel real! I owe everything to my brother and our hard-working team the tireless work they have put into the car. It really makes a difference as a driver knowing that the machine around you is perfect in every way." Similarly modest, Matt was also keen to praise his brother. "Olly really is a phenomenal driver," he smiled, "so I always felt that if we could get the car right, we had a glimmer of a chance. It's an amazing feeling to be there amongst so many of our own heroes – both in terms of drivers and cars – and be the quickest team, but it's a wonderful way to reward our team and sponsors for the faith, hard-work and support they have put into this car."
For more information on RCM, visit rogerclarkmotorsport.co.uk.