The average Brit has just three close friends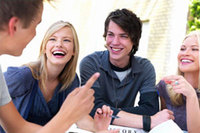 In a world of social networks and online communities taking 'friendship' circles and connections into the hundreds and thousands for most individuals, a new global survey by Mercure Hotels has revealed that the average Brit has just three people in his or her life that they consider 'a close friend'. While almost one in ten Brits (9%) say they have no friends that they would consider 'close'. When asked to define what constituted a close friend, the majority believe it is being able to rely on him or her.
Interestingly, the survey has revealed that over 60% of childhood friendships are revived thanks to social media, highlighting the importance of social media on our relationships.
Have social networks come to replace actual friendship and personal interaction or has it added a new dimension to our relationships?
67% of Brits prefer to keep in contact with existing friends via texts and phone calls rather than through online networks. This is in contrast to the Italians, Poles, Australians, Brazilians and Chinese, who find Facebook central in maintaining contact with friends and are subsequently amongst the biggest users of social media. People from China are perhaps the most extreme in this culture with 87% being more likely to make friends with someone they have never met in real life over social media compared to a modest 52% of Brits.
That is not to mark the Brits as unfriendly however. In fact they are four times more likely to make friends when travelling than those from Japan. That said, the majority of British people only contact friends of friends when travelling abroad or domestically in order to source useful hints and tips on the local area rather than a means of extending their online friendship circles. This is in stark contrast to people from Brazil, China or Italy, of whom you can almost guarantee to receive a friend request to connect via social after even a fleeting meeting. Interestingly 36% of Brits don't actually use social media networks to stay in touch with friends at all when travelling however perhaps most surprising - and refreshing - are people from Japan, who despite being renowned for being a tech savvy nation, rely most heavily on traditional methods of communication such as letters and post cards to keep in contact with friends.
Jonathan Sheard, SVP Operations Luxury, Upscale & Midscale Hotels, Accor UK & Ireland commented: "This has been a really interesting survey to carry out. Given the social media phenomenon it is surprising to find that the majority of British travellers don't use it at all to keep in touch with friends when away. That said, when you consider friend requests are issued without having met the recipient it is quite easy to believe that the six degrees of separation theory is very much possible in today's modern world."
The survey has been conducted by global hotel brand, Mercure who sought to explore the 'six degrees of separation' theory. This concept suggests that every person on the globe can be connected to any other through a chain of individual relationships involving no more than five other links. Mercure tested this theory with the winner of a worldwide operation on Facebook, who travelled round the world through network connections. She started her journey in Rome. Then she enjoyed stays in the Mercure hotels in Paris, Berlin, London, Rio, Nelspruit in South Africa and Bali… finishing her incredible voyage in Byron Bay, Australia, seven weeks later.