Virgin Atlantic reveals some of its more unusual upgrade requests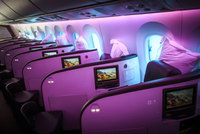 In a survey of over 1000 ground staff and cabin crew, Virgin Atlantic has revealed the funniest requests for upgrades. From blagging birthdays to broken hearts, magic tricks to marital mishaps, customers often put their creative heads on in the hope of receiving that elusive upgrade.
"With such fantastic Upper Class and Premium Economy cabins on all our aircraft, it's easy to see why our customers go to such great lengths in the hope of getting an upgrade" said Jill Brady, Executive Vice President, Customer at Virgin Atlantic.
"However, with award-winning inflight entertainment, restaurant-style dining along with extra touches such as Gu Puddings, Fab ice lollies and hot chocolate in our Economy cabin, our customers are always looked after no matter where they sit on the plane."
Some of the more unusual tales customers told to secure an upgrade:
The rowing couple - One gentleman requested an upgrade so he wouldn't have to sit next to his wife
The broken-hearted - A young man hoped an upgrade would mend his broken heart after being dumped on his birthday
The tired father - A father travelling with his family wanted to be upgraded as his baby was teething and he wanted a good sleep. Needless to say his wife wasn't impressed!
The impatient traveller - One lady asked for an upgrade as she wanted to get to her destination quicker!
The trickster - A very famous magician offered to perform magic tricks for the crew in return for an upgrade
The overachiever - A businessman asked for an upgrade as he was in Economy but his boss was in Premium - he wanted an upgrade to Upper Class so he could wave at his boss from the bar.
The fantasist - One gentleman requested an upgrade so he could try out the on board hot tub!!
The entrepreneur - One businessman requested an upgrade so he could meet Richard Branson and pitch an idea to him on board.
Some of the more common reasons revealed by the survey included:
1. It's my birthday!
2. I am a friend of Mr Branson
3. We are on honeymoon
During the month of August, each week, the airline is encouraging customers to tweet their #BestRequest for a chance to be upgraded.
Virgin Atlantic upgrade prices start from just £299 from Economy to Premium Economy and £1299 from Economy to Upper Class. Upgrade your airport experience with limos, Upper Class check in, fast track security and baggage and access to the Clubhouse with the Virgin Atlantic Guest List experience from £250 per person
To book a flight or upgrade with Virgin Atlantic or to join Flying Club, log onto virginatlantic.com