Bromyard Folk Festival gears up for its most successful year!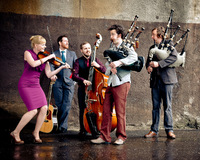 With four weeks to go, the Bromyard Folk Festival (Herefordshire) is gearing up for its most successful year yet. The Festival, which takes place from 11 - 13 September, is located in the town and on the festival site next to the Bromyard Town Football Club. Renowned as the best folk festival in the Welsh Border area, the Festival features over 170 hours of traditional music, song and dance. This year the festival is expected to attract record numbers with tickets selling fast especially for headline acts Sharon Shannon, Brebach, and the Gerry Colvin Band.
Other headline acts include John Doyle, New Rope String Band, The Young'uns, Emma Sweeney, Allan Yn Y Fan, The Hut People and Speldosa. The festival starts on the Friday at 8.00pm with a concert, grand ceilidh and a 'folk club' with a Morris procession through the town at 9.00pm. The evening ends with a song session at 11.45pm. Saturday morning features workshops, singarounds, meet-the-artist sessions, concerts and dance displays. In the evening there are two concerts, a ceilidh, a musical variety concert, plus a late night club session. Workshops for dedicated dancers are held all day, with a 'Dancers' Day of Dance' being held in the Falcon. Sunday morning is similar but also features the popular Folk services held in local churches plus a song concert and grand ceilidh in the afternoon.
In addition there are a range of children's events, a craft fair as well as Morris and other dance displays. On site there are a large number of food franchises from around the world which cater for almost all tastes and life choices plus a range of eateries in town.
Lynne Barker, Festival Director, stated "Ticket sales are going exceptionally well and I would strongly urge anyone interested in attending to book now. The Festival features some of the most outstanding local, national and international traditional folk musicians performing throughout the weekend and an event not to be missed".
Adult weekend tickets start from £79. Tickets can be booked online or from The Courtyard Theatre in Hereford on 01432 340555. For more information, visit bromyard-folk-festival.org.uk.