Lock up and leave with confidence at St George's Park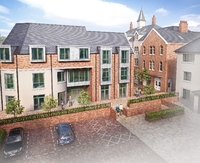 As the downsizing trend continues to grow among the baby-boomer generation, Lloyd's Bank has found that fifty two per cent of the UK's perspective purchasers are in search of a smaller property. The research also found that twenty eight per cent were trading down to release equity from their current property, in order to enjoy spend more time away, which the previous commitment of running a high maintenance family home typically prevented them from doing.
Baby-boomers looking for the perfect up and leave property, should look no further than St George's Park in Ditchling, East Sussex. Created with convenience, style and security in mind, the Retirement Village exclusively for the over 60's, offers ideal homes for those wanting to release equity from their larger family home, without compromising on luxury.
Situated within 250 acres of communal parkland and landscaped gardens, residents will never have to worry about coming home to an over-grown garden whilst jet setting around the world. The development also benefits from external lighting, access to a 24 hour concierge service and CCTV monitoring, so that downsizers can lock up and leave their belongings with confidence.
Philip Smith, Sales and Marketing Director of St George's Park Retirement Village comments: "With downsizing becoming increasingly popular due to the relaxed lifestyle it offers, the demand for low maintenance properties grows. Retirees want properties they can leave at months at a time and be confident in the knowledge that their homes and belongings are safe. At St George's Park we pride ourselves in having created the perfect lock up and leave development for residents who wish to take frequent day trips, short-term holidays or even perhaps have a second home overseas and spend half of the year there."
A final phase of one and two bedroom apartments is currently for sale in Purchace Manor and Rafael Court giving buyers a last opportunity to be part of this highly successful community. Apartments are generously proportioned, well planned, filled with natural light and are fully accessible for wheelchair users and residents with limited mobility, while offering attractive and contemporary interiors.
Situated on the original footprint of the former building that was built in 1868, Purchace Manor has been designed to mirror the original architectural design, with distinctive arched windows, a turreted roof, decorative balconies, contrasting brickwork and tall chimneys and is set to become the focal point of the village.
Designed around a central courtyard, the three storey apartment building occupies a prime location with stunning views of the surrounding countryside, and offers a range of generously proportioned two bedroom apartments.
This final phase also includes a brand new leisure centre and health club, known as Rafael Court, which is due to open this November. Featuring a selection of one bedroom apartments, the state of the art facilities include an indoor heated swimming pool, gym, Jacuzzi, sauna, games rooms, therapy rooms, café and hairdressing salon, which will further increase the extensive range of social and recreational facilities already available.
Active and healthy lifestyles are encouraged at every opportunity and there is a wide range of activities on offer for residents who want to get involved and keep busy. The Residents Association organises clubs and societies from bridge, art and scrabble to theatre visits, film nights and speakers, and they can take part in other activities ranging from line dancing and snooker to fishing and bowls. The original concert hall also makes an ideal place for special occasions, communal gatherings and other events including plays, guest speakers and concerts. There is also a library, restaurant / café, convenience shop and concierge service.
In total St George's Park will offer 240 stylish apartments, developed by the St Augustine Order whose convent remains on the site today. The scheme also includes three 60-bed care homes for those who need more support, which are located on a separate site within the grounds and enjoy views across open farmland. The community also features a Concert Hall, library, restaurant / café, convenience shop, concierge and a mini bus service and pool car allowing residents to get out and about.
Perfectly located for everything from day trips to long-term stays abroad, St George's Park is within 3 miles of Haywards Heath and Burgess Hill both of which offer good local shopping including major supermarkets and excellent rail links to Brighton, Gatwick Airport and London Victoria.
Properties at St Georges Park start at £365,000 for a two bedroom apartment in Purchase Manor and from £310,000 for a one-bedroom apartment in Rafael Court. For further information, visit stgeorgespark.co.uk.