Live life to the full at St George's Park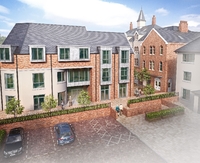 St George's Park highlights research undertaken by the University of Exeter, which found that people living in urban areas with more green space tend to report greater wellbeing than city dwellers that don't have parks, gardens, or other green space nearby.
According to the 18 year study of 5,000 UK households, individuals reported less mental distress and higher life satisfaction when they were living in a greener area, which also fits with findings from experimental studies showing that periods of time spent in a green space can improve people's mood and cognitive functioning.
Ideal for the over 60's and perfect for people looking to enjoy an active and healthy lifestyle, St George's Park in Ditchling, East Sussex, comprises extensive parkland and green open spaces as featured in the study. Boasting 250 acres of parkland, a fishing lake, ancient woodland and landscaped gardens for walking as well as a vast array of social and leisure facilities including a gymnasium, and a restaurant and café, residents can enjoy their later years having fun and keeping fit. A new leisure centre with swimming pool, spa and tennis court will also be available in the last phase of the development, complementing the existing bowling green and croquet lawn.
Philip Smith, Sales and Marketing Director of St George's Park comments: "The research found that living in an area surrounded by green open space does have a positive impact on the quality of life and is beneficial for people's wellbeing, physical activity, and feelings of health, safety, and satisfaction. Being able to walk, take part in social activities and enjoy the beautiful seasons in glorious open spaces is what St George's Park is all about. We do encourage residents to enjoy the excellent range of facilities available to ensure they make the most of their later years and lead long, happy lives and, as the study points out, they are more likely to as a result of living in this lush and tranquil oasis."
Sports and leisure facilities are both indoor and outdoor at St George's Park, ensuring activities are available all year around. Residents can enjoy lots of fresh air and outdoor pursuits including fishing in the lake, golf, bowling, croquet and they can even join the allotment club. There is also a host of indoor activities available including table tennis, snooker, line dancing, short tennis and short mat bowls.
The active St George's Park Resident's Association organises a packed timetable of activities including a variety of clubs such as an art club, local history group, scrabble, book club, poetry group and friendly bridge clubs, and the ever popular 'knit and natter' club.
To further enrich their social life, residents can enjoy a healthy meal with friends and visiting guests in the café or restaurant or take a trip into the local towns with friends on the mini bus service or make use of the pool car service. They can also visit the on-site hairdressers, enjoy a book in the library or delight in one of the many activities that take part in the original concert hall, an ideal place for special occasions, communal gatherings and other events including plays, guest speakers, film nights or concerts.
Apartments throughout the village are generously proportioned, well planned, light and finished to a very high specification. All are fully accessible for wheelchair users and residents with mobility impairments, while offering attractive, contemporary interiors. For peace of mind St George's Park has ensured that all apartments come with monitored security, video entry and fire alarm systems.
St George's Park is within 3 miles of Haywards Heath and Burgess Hill both of which offer good local shopping including major supermarkets and excellent rail links to Brighton, Gatwick Airport and London Victoria.
Prices for available properties at St Georges Park currently start at £345,000 for a two bedroom apartment. For further information, visit stgeorgespark.co.uk.