11.8 billion photos lost by UK smartphone users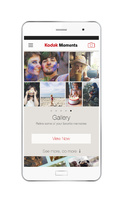 More than a third (35%) of people in Britain have lost photos from their smartphone, according to a study released today by imaging company, Kodak Alaris. People in the UK store an average of 651 photos on their mobile phones meaning that a potential 11.8 billion photos are lost in the ether. Yet they continue to fail to take the necessary steps that could protect their valuable memories.
The study marks the launch of the free, all-in-one KODAK MOMENTS App, which enables people to capture and preserve life's special moments. People can use the app to capture and edit pictures, before sharing on social media or immediately ordering prints for home delivery or collection from a store. In addition to simple prints, they can also create greeting cards, collages, photo books and more, all from a single app on ANDROID or iOS devices, when connected to a KODAK Picture Kiosk.
One in 10 (13%) people don't take any steps to protect their photos, whether printing, backing-up on a PC or posting to social media. Whilst 78 per cent would print photos taken on a smartphone to put on display, they are deterred from doing so, either due to a perception that photos taken on mobile devices aren't good enough quality (31%), are difficult to get from a mobile to a printer (15%) or because they simply don't know how to print from a mobile phone (19%).
Lee Palmer, Vice President of Kodak Alaris Imaging division, EAMER, said: "11.8 billion photos is a significant number and over a quarter of people were 'devastated' to lose their pictures. Considering we live in a digital world and are likely to have experienced some form of digital loss, be it a document, email or something as valued as photos, it's surprising that so many people aren't doing more to prevent themselves from having to deal with the frustration this causes. With the new KODAK MOMENTS App, there's a solution."
Gadget Girl presenter Nikki Moore, commented: "As someone that takes a lot of pictures, particularly of my children, I can totally relate to feeling devastated at losing photos. Kodak Alaris' study highlights the need for people to take measures against losing their content, as you don't realise quite how much it'll impact you until it happens, and by then it's too late. I'm a real advocate of printing my photos as then they are not only safe, but available for everyone to enjoy. The KODAK MOMENTS App makes this really easy to do."
The app's intuitive design and easy navigation make printing anything from 4"x 6" to 12"x 8" prints, including square options, simple. Users can enhance images with text, filters, red eye reduction and cropping. They can also preview their images and order different sizes and copies.
The KODAK MOMENTS App's all-in-one features include:

Choose from a wide range of products and create beautiful prints of your memories on your mobile device anywhere, anytime
Upload your photos directly to a Wi-Fi enabled KODAK Picture Kiosk and print your photos instantly to take them home straight away. Take your pick from a variety of photo products on the KODAK Picture Kiosk. Wi-Fi enabled KODAK Picture Kiosks are available at KODAK Express and selected Tesco stores
Order your prints to be delivered direct to your home, anywhere in the UK
Order on the go and arrange to collect your prints up from your nearest store the same day
Take photos with the in-app KODAK MOMENTS camera and capture your moments and memories
Make your memories more beautiful and edit your photos by cropping, rotating, adding colour filters and captions
Lee Palmer, concluded: "Simple acts, such as printing photos, are an easy way to protect your memories. Our new, free, all-in-one KODAK MOMENTS App, lets you capture, edit, share and print life's special moments, enabling people to enjoy their precious memories for years to come."