Forge Action Day 2015 - Better than ever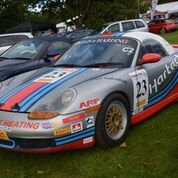 The recent Forge Action Day at Castle Combe may not have exactly broken its own mould in terms of show content, but when you factor in the impressive mix of track action, cool cars and big aftermarket manufacturers, you could argue that following the old adage of 'if it ain't broke, don't fix it,' was definitely a wise move for the event's organising team.
This was the fifth year that Gloucestershire tuners Forge have added their weight, ideas and industry friends to Castle Combe's tried-and-tested Action Day format, and the result is a truly eclectic gathering that has become known for its ability to attract the most diverse range of cars and enthusiasts on the UK show calendar. It's certainly the most inclusive of all UK shows, and one of the very few places where classic and retro cars – and their respective owners – rub along happily with Japanese and Euro cars, race and drift machinery, and even kit cars and specials. When describing the attendees at this show, it's easier to pick a genre that's not here, rather than ones that are. Put simply, if it's got an engine and wheels, it's welcome at Forge Action Day.
The weather may have started off dull and overcast, with a sprinkling of rain making for some 'exciting' early track sessions, but true to form for the last five years, the sun broke through in the afternoon to bathe this picturesque venue in scorching heat. Just what the doctor – and guests – ordered! Divided into 15-minute sessions, the track was a hive of activity all day, with enthusiast owners of all marques taking time to acquaint themselves with Combe's demanding crests and curves. With clubs being a big part of this event, the metal on track was often as weird, wonderful and diverse as the static displays in the paddock.
A unique aspect of the Forge Action Day concept is the trade village in the middle of the showground itself. Thanks to Forge's unique standing in the marketplace, many of the firm's technical partners chose to support the show and exhibit at the circuit. Blue-chip names like The Performance Company, Milltek, Tarox, Bilstein, Meguiars, APR, Powerflex and Toyo Tires all lined up to show off their latest wares, as well as networking and swapping tales of derring-do on track. Many put on special show offers throughout the day, and showgoers were keen to grab a bargain whilst they were there.
As hosts, Forge Motorsport naturally pulled out all the stops to make this year's show something extra special. Due to the diversity of its portfolio, the Forge stand showcased everything from picture perfect air-bagged showcars through to battle-hardened racers. Stand cars ranged from a cover-star BMW 1 series with a full BTCC bodykit, through to old-school Dubs and Mercs. Naturally, many of the Forge team's own projects were placed in pride of place out front. The firm's world-famous Mk1 show car, owned by Zac Miles, was universally loved by all who visited and the Forge team also handed out beautifully engineered trophies to the best cars of the show too, with the quality of many exhibits being simply breath-taking.
Many clubs took the opportunity to take an exclusive session out on the challenging circuit, with sponsors Meguiars even allotting an exhibition run for the air bagged and custom-painted showcars that don't normally get to pound the track in anger. Offsetting these somewhat 'careful' laps however, were the insanely talented drifters, who were drifting at well-into-three-figure corner speeds and filling the venue with plumes of acrid smoke. As well as the usual Jap and BMW suspects in these sessions, it was great to see Mk2 Escorts and Hot Rods pushing hard in the sideways selection, proving that the diversity of Forge Action Day content even extends to the track!
Catching up with Forge MD Peter Miles after the show, it was clear that the 2015 event had been another great success from the viewpoint of all parties. "It never fails to amaze me what a fantastic selection of cars and people this event attracts," he said. "I'd like to give my heartfelt thanks to all the owners, clubs and enthusiasts that have supported us today. This event has always been about throwing the doors open to a show that welcomes every genre, every marque and every scene in a celebration of great and interesting cars from across the spectrum. Looking out across the showground today and seeing the amazing sights on track, I feel that the Forge Action Day has once again delivered on that promise. Thank you to everybody that makes it all possible, especially the amazing efforts of my team at Forge and the hard-working staff at Castle Combe. We very much hope to do it all again next year!"
For more information on Forge Motorsport, visit forgemotorsport.co.uk.