Introducing the Garmin Forerunner 630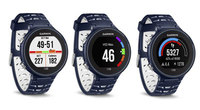 Garmin has announced the company's newest and most cutting-edge GPS running watch – the Forerunner 630. Featuring Garmin's most advanced running watch technology yet, the touchscreen Forerunner 630 boasts more running dynamics than its predecessor, and additional physiological measurements so runners can be more aware of their bodies before, during and after a run. Runners can stay connected and motivated throughout and in-between workouts with smart notifications and audio prompts via a compatible smartphone and daily activity tracking features. The 630 is also compatible with the Connect IQ smartwatch platform. With Connect IQ, users are able to customize their watch with additional apps, widgets, watch faces and data fields.
As our most advanced GPS running watch to date, we're thrilled to bring the Forerunner 630 to market," said Andrew Silver, Garmin EMEA Product Manager, Fitness & Wearables. "The next generation of running dynamics along with the physiological measurements and Connect IQ compatibility makes the 630 an essential tool for the serious and data-driven runner.
Advanced Running Watch Features:
Building off the advanced running dynamics introduced with Forerunner 620, the new 630 provides more data and physiological measurements to keep runners aware of their bodies while training, help avoid injury and improve overall performance. The new metrics include:
Advanced Running Dynamics:
Stride Length: Measures the length of a runner's stride in real time.
Ground Contact Time Balance: Measures a runner's ground contact symmetry, which some runners have found to correlate with injuries or strength imbalances.
Vertical Ratio: The cost-benefit ratio of vertical oscillation to stride length, serving as one indicator of a runner's efficiency.
Physiological Measurements:
Lactate Threshold: Estimates the level of effort at which fatigue rapidly increases in terms of a runner's heart rate and pace.
Stress Score: Measures heart rate variability to make an assessment of a runner's overall level of stress before they set out on a run.
Performance Condition: Provides a real-time fitness-level measurement at the start and during a run relative to a runner's average which indicates performance readiness.
Train more effectively with the Forerunner 630 by tracking cardio data such as heart rate, heart rate zones and VO2 max estimate with any ANT+ compatible heart rate monitor. By estimating VO2 max, it can predict race times, as well as provide a recovery advisor so runners know how long to rest after an intense workout. Additionally, when paired with HRM-Run, the 630 can measure a runner's cadence, vertical oscillation and ground contact time. The high-resolution color touchscreen with updated graphical interface is also easy-to-read at a quick glance, so users can stay focused on their run.
Stay Active and Connected
With the Forerunner 630, Runners can stay connected and motivated throughout the day. Through a connected smartphone, users can get call, text and email notifications right on the watch at any time, as well as audio alerts for lap and lap times while running with music. They can also wirelessly control their music from their watch, leaving their smartphones inside the pocket. Additionally, the 630 is compatible with the Connect IQ smartwatch platform, so runners can download additional apps, widgets, watch faces and data fields from the Connect IQ store. The Forerunner 630 offers automatic uploads via Wi-Fi® to the recently updated Garmin Connect mobile app when in range, so users can check in any time throughout the day to view their run data and progress toward goals, track their sleep hours, join challenges and more. Garmin Connect Mobile's easy-to-use interface provides daily information and trends over time and can be linked to a MyFitnessPal account to automatically sync calorie and nutritional information, allowing users to view active and consumed calories, and remaining calories (based on goals set in MyFitnessPal).
Between runs, the Forerunner 630 has daily activity tracking features to monitor valuable data including steps, distance, calories burned, and sleep, and its move bar with vibration alert provides motivation to stay active all day. It is water resistant to 50 meters and boasts up to 16 hours of battery life in training mode and 4 weeks in watch mode with activity tracking and smart notifications. With all of these additional features, the 630 isn't exclusively for running. It can be worn all day, every day to keep users active and connected all day long.