Why the Cultural Heart of Germany ticks all your Christmas market boxes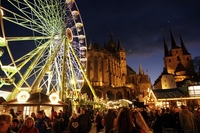 From Germany's oldest Christmas market to hidden gems in small towns, take your pick and pencil in a Christmas market break in the Cultural Heart of Germany: In Saxony, Saxony-Anhalt and Thuringia you'll be taken to places where Christmas truly is at home.
Saxony
Saxony features the 'granddaddy' of all Christmas markets, Striezelmarkt in Dresden (26 Nov to 24 Dec), which dates back to 1434, as well as one of Germany's biggest markets in Leipzig (24 Nov to 23 Dec) with more than 250 festively decorated stalls. The region is also home to many centuries-old festive customs: The Ore Mountains have a rich tradition of toy making and the distinctive nutcrackers and incense smokers as well as wooden pyramids, candle arches or wooden angels expertly manufactured here are much loved Christmas decorations and adorn many a house in Germany and indeed beyond. Visitors can take a peek in workshops and visit dedicated museums.
The region is also full of romantic towns where historic market squares provide the perfect backdrop for atmospheric Christmas markets such as Görlitz or Annaberg. One tip for travellers wanting to experience the Christmas spirit in special surroundings: A wide selection of Saxony's beautiful palaces and castles undergo an enchanting transformation during the festive season and re-emerge as locations for Christmas markets and festivities. With the 'Christmas Wonderland Saxony' app visitors can also get their Christmas market fix on the go with lots of practical information about markets in the region.
Thuringia
In neighbouring Thuringia, the historic town centre of Erfurt provides a picture-perfect setting for one of the region's most loved Christmas markets (24 Nov to 22 Dec), featuring more than 200 stalls selling regional arts and local culinary favourites such as the beloved Thuringian bratwurst. Stand-out features are a huge candlelit Christmas tree, a ferris wheel and the almost life-sized figures of the nativity scene. From the long list of Christmas market options in Thuringia, the one in Weimar and the historical Christmas market held at Wartburg Castle are two special highlights: Pretty Weimar, where the first public Christmas tree was erected on the market square in 1816, turns its town centre into one of the most atmospheric Christmas markets in the region, and it has the added benefit of running until early January (24 Nov to 5 Jan). UNESCO World Heritage site Wartburg castle, towering above Eisenach, puts on a special historical Christmas market on every Advent weekend featuring artists, traditional craftsmen, knights and colourful stalls.
Tip for families: Less than an hour's drive from Erfurt, beautiful Castle Leuchtenburg, which is home to the 'Porcelain Worlds' exhibition, invites visitors to a special 'Christmas Markets of Wishes' on 5/6 and 12/13 December. Children can write their Christmas wishes on porcelain plates and then throw them from a 20-metre-long 'Skywalk of Wishes', based on a German saying that breaking crockery brings you luck.
Saxony-Anhalt
The Christmas trail continues in the Harz Mountains in Saxony-Anhalt where some of the towns seem to have specifically been built for the purpose of serving as a picture-perfect Christmas market backdrop: Wernigerode, dating back to the 12th century and full of colourful timber-framed houses, features a wonderful market square with the Christmas market as a major attraction each winter. Likewise, Quedlinburg, a UNESCO World Heritage site, is lucky to have enough timber-framed houses and cobbled streets to provide for a particularly picturesque Christmas market experience. And there are a couple more rather special attractions that make Quedlinburg a top festive destination:
On the second and third Advent weekend, the courtyards of over 20 historic houses open their doors to visitors, inviting to explore arts and crafts stalls and sample culinary delights. Plus, the city itself is transformed into a kind of giant Advent calendar in the run-up to Christmas. Every day until Christmas Eve one of the timber-framed houses on the Schloss Mountain above town opens its door to reveal a festive secret. To put the icing on the cake of the Harz Mountain Christmas experience, a ride on the region's narrow-gauge railway, the Harz Mountain Railway, is a particularly impressive seasonal experience not to be missed.
For more information, visit cultural-heart-of-germany.com.