Carrera VW Volkswagen Beetle #47 Group 5 Racing Slot Car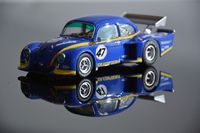 The latest slot car racing release from Carrera has arrived just in time to delight VW enthusiasts of all ages for Christmas. This new Carrera Evolution 1:32 scale model slot racing car is exquisitely detailed and will work not only on all Carrera slot tracks, but on all other equivalent systems.
This wildly styled Group 5 bug is reminiscent in design to the mighty Porsche 935, and comes complete with stunningly re-created engine, wing and interior details, meaning it looks as well on any collector's shelf as it does at full throttle on track.
The Carrera Volkswagen Kafer Beetle Carrera Slot car comes with magnatraction for faster cornering speeds, easy change spare braids and a choice of different size blade guides for all track systems. It can also be easily upgraded to work with Carrera's digital systems simply with the addition of an optional chip. As with all Carrera slot cars, the Beetle also features a reverse polarity switch underneath, allowing motor direction to be easily reversed.
Packed in a crystal, mirror-backed display case, it makes a perfect gift, an excellent addition to any race stable, or the ideal addition to any collector's shelf. Priced at £29.99 It also represents exceptional value for money.
Carrera Evolution slot cars are fully compatible with all other leading analogue systems including Scalextric.
For more details, or to locate nearest stockist, visit hobbyco.net
About Carrera Slot cars
In tune with the 'Motorsport at home' slogan, for over 50 years Carrera has been bringing together long-time slotcar enthusiasts and complete newcomers around its circuits to set up thrilling racetrack battles for gamers of every age. Carrera has a large range of 1/24 scale & 1/32 scale slotcars in both digital and analogue format for use on the worldwide unique Carrera slot car racetrack system, combining tracks to race 1/24 & 1/32 scale slot cars, making the race track wider than other brands. Also in the Carrera motorsports toy ranges are the 1/43 scale Carrera Go & Digital sets. Carrera works closely with the LGA in Nuremberg to guarantee the quality and safety of all of their products and both of its factories exceed the general standards for certification by the ICTI (International Council of Toy Industry)