Move into a new home in time for Christmas in Plymouth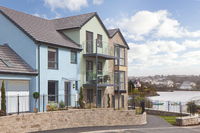 Homebuyers are being offered the chance to settle into a brand new home in Plymouth in time for Christmas with the Barratt Homes saying that now is the perfect time to buy.
And as an added incentive to those reserving by the end of November, Barratt is offering to pay Stamp Duty, a contribution to legal fees and even provide flooring in your new home.
"We know that people looking for a new home are keen to be settled for Christmas and we have a number of homes at our Plymouth developments which will be ready in time for the festive season,'' said sales director Sara Parker. "Our Christmas package will also save buyers thousands which makes a move now even more attractive."
Barratt has two three and four bedroom homes available at PL2 with prices starting from £149,995 and a range of three and four bedroom homes at Reflections where prices are from £259,995.
"With Christmas fast approaching people perhaps think there isn't enough time to move into a new home, but I'd like to assure them that the process can be done in just a few weeks," added Sara.
Sara's comments come at a time of increased confidence in the market and with interest rates continuing to be at their lowest level for years.
"At Barratt Homes we've seen a large rise in demand for new homes, signifying that more people, from first time buyers to upsizers, are not only more confident about making a move, they've been able to secure the necessary finance also.
"This is not only good news for business, it is great news for the economy and the homebuilding industry in particular,'' added Sara.
"By reserving now, buyers can be settled in for the holiday period. And as our homes all come complete with energy efficient heating and high standards of insulation, they can look forward to a cosy Christmas and New Year."