Christmas markets in Tirol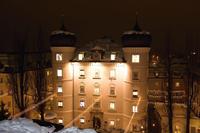 The run-up to Christmas in Tirol is a time of joyous celebration amongst family and friends, observed by many deep-rooted traditions that continue to this day. It makes for a refreshing break to spend time in Tirol in December away from the commercialism of Christmas in the UK. Here are five of the best Chrismas Markets to visit in Tirol.
Lienz Christmas Market, OstTirol (East Tirol)
27th November – 24th December 2015
One of the oldest Christmas Markets in Tirol, takes place in Lienz, the capital of OstTirol (East Tirol). Situated in front of the historic Liebburg Castle, the main square plays host to the colourful and decorated stalls, offering everything from intricate decorations and traditional handicrafts to mulled wine and festive delicacies. Lienz Christmas Market also lays on a host of festive events, which range from nativity scene exhibits and craft sessions, to folk stories and workshops focusing on regional traditions. osttirol.com
Top tip: A special attraction is the larger-than-life advent calendar on the 24 windows of the Liebburg Castle. At 18:30 each evening, a new advent window and piece of artwork is revealed by the clock in front of the Town Hall.
Where to stay?
Located in the heart of the picturesque town of Lienz and surrounded by the scenic mountains of the Lienz Dolomites, the 5* Grandhotel Lienz is perfect for an Advent break. Stay 3 nights, with prices starting from €326 per person on B&B. To book visit grandhotel-lienz.com. The closest airports are Innsbruck or Salzburg, served by various airlines, including easyJet, British Airways and Monarch Airlines. The easiest way is to organise a hire car, as Lienz is a 2.5 hour drive away.
Old Town Christmas Market, Golden Roof, Innsbruck
15th November – 23rd December 2015
The scene at Innsbruck's Old Town market couldn't be more perfect: Christmas tree lights twinkle beneath the city's famous Golden Roof, with the snow-dusted Nordkette mountains as a backdrop. The city stages a total of five Christmas Markets each with a different take and unique appeal.
With over 60 stalls, one of the largest takes place at the Marktplatz, right next to the River Inn and is a real favourite with families. Beneath the iconic Golden Roof in the Altstadt (Old Town) is possibly the most authentic Christmas Market in the city. Weave your way through the stalls to find unique Christmas tree decorations, traditional wooden toys, beautiful hand-carved nativity scenes and figures and many other lovingly made examples of Tirolean handicraft. Inspired by the stories of the Brothers Grimm and Hans Christian Anderson, you will find figures of well-known fairy tales hanging in the surrounding alleyways, such as Little Red Riding Hood and Sleeping Beauty.
As the Old Town pays homage to tradition, the Christmas Market on Innsbruck's main shopping street offers a more contemporary and modern take. The Maria-Theresien Strasse will dazzle visitors with festive lights, glass and crystal and over 30 stalls offering a range of international Christmas products. The Christmas Market on the Hungerburg takes place in one of the more unusual locations and getting there is an experience in itself. From the city centre take the Hungerburg funicular, one of Innsbruck's landmarks designed by Zaha Hadid, up the mountain to Innsbruck's highest market and enjoy the most amazing panoramic views over the city. The most recent addition is the Christmas Market at Wiltener Platzl and is known as the artistic market, with a display of hand-made crafts and festive delicacies from Grandma's receipe book, whilst the air is heavy with the scent of mulled wine and gingerbread. Visit christkindlmarkt.cc; innsbruck.info
Top tip: Sipping mulled wine beside the Christmas tree whilst listening to the the 'Turmbläser'or trumpeters on the balcony of the Golden Roof delighting the crowds with atmospheric Christmas songs.
Where to stay?
A 2 night Advent package on B&B starts from €149 per person and includes a 48h Innsbruck guest card. For a list of advent packages visit innsbruck.info/en/innsbruck-city/packages/city/advent-package.html. Flights from the UK are available with easyJet, British Airways or Monarch airlines to Innsbruck airport.
Seefeld Christmas Market
27th November 2015 – 6th January 2016
There can be fewer places to feel more festive than on a Christmas skiing holiday. Step away from over-hyped festivities, once the snow starts falling the pretty villages are transformed into picture-perfect scenes taken straight from the front of a Christmas card. The resort of Seefeld is one of the atmospheric resorts during the festive period, with a magical Christmas market filling the pedestrianised square with the sounds, smells and sights of Christmas.
Offering some of the most picturesque skiing in Austria, the attractive village of Seefeld boasts an enviable position in the heart of the Tirol, just half an hour from Innsbruck airport. There are no nasty surprises, making the resort superb beginner and early intermediate territory as well as being Austria's leading cross-country resort, with 250km of marked trails.
Top tip: Join a torch-lit chapel trail in neighbouring Leutasch and walk at night with lanterns, listening to traditional folk tales and songs.
How much?
Stay 5 nights on half board at the 4* Hotel Lärchenhof (hotel-laerchenhof-seefeld.com) in Seefeld, with prices starting from €704 per person, including an Advent torch-lit walk around through the forest, a relaxing Christmas spa treatment. To book email info[at]marcati.at. Flights are availble with easyJet, British Airways or Monarch airlines to Innsbruck airport.
Rattenberg Christmas Market
27th November – 20th December 2015
The medieval and famed glass-making town of Rattenberg, located at the entrance to the Alpbach Valley, is one of the most magical Christmas markets in Tirol. Rattenberg is all about peace and tranquillity and advent here once more turns into that reflective and peaceful season it once used to be. Find Christmas tree decorations and fine examples of decorative handicraft, as well as sample some traditional fare such as Kiachln and Glühwein' (mulled wine). Stay in the resort of Alpbach, a further drive up the valley. It's not just about skiing here, the resort is ideal for a winter wonderland adventure with winter walking, tobogganing or snowshoeing on offer. alpbachtal.at
Top tip: Wander through the Rattenberg's pretty streets, stopping off at one of the local glass artist's studios – the famous Kisslinger Crystal is made here.
Where to stay?
Combine your Christmas Market visit with a ski break in Alpbach. Depart on 12th December and stay 7 nights at the romantic 4* Alpbacher Hof with prices starting from €894 per person, including half board, a 6 day ski Juwel ski pass, snowshoe walk and visit to the Rattenberg Advent on 18th December. To book visit alpbacherhof.at or call +43 (0) 5336 5237. Flights are availble with easyJet, British Airways or Monarch airlines to Innsbruck airport.
Christmas Market at Kufstein Fortress
27th November – 23rd December 2015
The Christmas Market in Kufstein takes place in two locations, bringing colourful festivities to the town centre, whilst up at the Kufstein Fortress the location creates the perfect Christmas atmosphere. Stroll around the beautifully decorated stalls for glittering tree decorations or traditional Tirolean handicrafts. There's a programme of events to join in, including a guided forest walk to the old Thierberg chapel with its beautiful nativity scene or at the Kufstein Fortress learn how the traditional "Prügeltorte" is baked over an open fire and have a go yourself. kufstein.com
Top tip: It's great for families, with carousel rides, pony riding, bread baking by the open fire and storytelling at the Kufstein town market.
Where to stay?
A 3 night Advent package on half board starts from €225 per person and includes a guided walk with smoke ritual. For more packages visit kufstein.com/en/package-advent-in-kufstein.html Flights are availble with easyJet, British Airways or Monarch airlines to Innsbruck airport.
For more information on the Tirol region visittirol.co.uk or keep updated at facebook.com/visittirol or @VisitTirol on twitter