Top ten hotels in the UK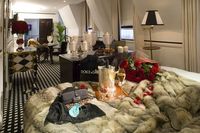 Hotel search website trivago.co.uk have revealed the results of their inaugural Top Hotel Awards, using aggregated online user ratings in order to recognise the best-rated hotels, both regionally and nationally. The Awards aim to judge all accommodation fairly, whether they are a bed and breakfast in Blackpool, serviced apartments in Edinburgh or a luxury hotel in London. This results in a real mix in the top ten, both in terms of accommodation style and geographic location. See below for our guide to the top ten best-rated hotels in the UK.
1 Hotel 41, London
Despite being located just a stone's throw from Buckingham Palace, Hotel 41 is nevertheless a quiet and intimate retreat, effortlessly invoking the grandeur and glamour of regal London. The hotel offers just 30 elegant rooms and suites, each furnished to a high standard. While no two rooms at the 41 are the same, all share the hotel's characteristic black-and-white motif and feature personal touches, such as fresh fruit, flowers and scented candles. The boutique hotel prides itself on its personal level of service, with personnel outnumbering guests two-to-one.
Rating: 96.79
Average room rate: £532
2 The Chester Residence, Edinburgh
Located in Edinburgh's West End, just a few minutes' walk to both Edinburgh Castle and lively Haymarket, The Chester Residence serviced apartments offer guests a great combination of luxury and independence, for a taste of five-star urban living. Located in two adjacent listed buildings, the chic one- and two-bedroom apartments are stylishly decorated and equipped with a host of modern conveniences (such as Nespresso coffee machines). For the ultimate indulgence, check into the Owner's Residence, which boasts bespoke designer furnishings from Louis Vuitton and Armani Casa, as well as a Jacuzzi bath and private cinema.
Rating: 96.41
Average room rate: £244
3 The Arthington Guest House, Blackpool
A family-run bed and breakfast on the English coast, The Arthington Guest House is located close to all of Blackpool's major attractions, including Blackpool Tower, Madame Tussauds and Blackpool Pleasure Beach. The bed and breakfast is committed to design, with a continuous refurbishment programme ensuring all eight en-suite guestrooms maintain a contemporary and vibrant feel. Additionally, The Arthington has a popular lounge area with a licensed bar, as well as a dining area where guests can enjoy an award-winning breakfast or Afternoon Cream Tea.
Rating: 96.38
Average room rate: £57
4 The Clontarf Hotel, Llandudno
A family-run hotel found on the shore of the Great Orme, The Clontarf Hotel offers four-star intimate accommodation and great value for money. The hotel's nine individually-styled rooms provide guests with contemporary comfort, with large beds and complimentary L'Occitane bath products. In addition, the hotel offers a self-catering cottage which sleeps up to six people. Of course, one of the Clontarf's selling points is its prime location. As well as offering views of the blue waters of the Irish Sea or the green hillside of the Great Orme, the hotel is just minutes from the beach.
Rating: 96.21
Average room rate: £73
5 The Soho Hotel, London
Located on a quiet street in lively Soho, one of London's most popular boroughs for entertainment and nightlife, The Soho Hotel is a great place for those looking to enjoy the delights of the Big Smoke. Evoking a sophisticated mix of innovative design and bohemian chic, guest rooms feature statement ceiling-to-floor warehouse-style windows, as well as a range of modern conveniences such as WiFi, flat screen TVs and iPod docking stations. The Soho Hotel also features two state-of-the-art screening rooms – why not enjoy a three-course meal followed by a movie of the week with The Film Club? But guests won't want to spend all their time inside – The Soho Hotel's great location is one of its prime features, with an abundance of restaurants and bars close by.
Rating: 96.05
Average room rate: £500
6 Belmond Le Manoir aux Quat'Saisons, Oxford
Belmond Le Manoir Aux Quat'Saisons is a haven for foodies. Set amongst landscaped green gardens in the Oxfordshire countryside, the luxury hotel was created by renowned chef Raymond Blanc OBE and boasts not one but two Michelin-stars. Offering a 'typically English' experience, the hotel's rooms and suites are decorated in a tasteful and traditional style, using muted hues and subtle tones – in keeping with the rustic feel of the historic manor house. Of course, a visit to Belmond Le Manoir Aux Quat'Saisons wouldn't be complete without an incredible dining experience. Raymond Blanc's dishes use the freshest ingredients, many of which are grown on-site. The hotel's wine cellar also boasts around 1,000 different wines from around the world.
Rating: 96.00
Average room rate: £749
7 Rudding Park, Harrogate
Set in over 300 acres of beautiful parkland in the middle of Yorkshire, Rudding Park is an elegant hotel and spa. Situated in the Grade I listed Regency House, the hotel features 88 guestrooms, a private cinema, conference facilities and an award-winning restaurant, The Clocktower. For the ultimate in relaxation, why not check into one of the hotel's four spa rooms, where you can enjoy private access to your own en-suite spa bath, sauna or steam room. For the budding golfer, Rudding Park offers the best golfing in Harrogate – choose from a range of courses or sign up to the hotel's Golf Academy to improve your handicap.
Rating: 95.89
Average room rate: £211
8 Corinthia London, London
Found in the heart of the city, the Corinthia London faultlessly combines the old and the new in timeless style. Situated in a grand Victorian building dating from 1885, the hotel's interiors echo the traditional architecture of the period with soaring grand ceilings, decorative coving and classic furnishings. Meanwhile, all guest rooms feature the best in comfort, including King-size beds, as well as complimentary WiFi access, flat-screen TVs and Nespresso coffee machines. Of course, the most modern touch at the Corinthia is the ESPA Life spa. Billed as the 'next generation' of spas, the centre offers an integrated approach to wellness and features 17 treatment rooms, an indoor swimming pool, an ice fountain and much more – all spread over four floors.
Rating: 95.85
Average room rate: £548
9 The Somerville, Torquay
Found in the popular coastal resort of Torquay, The Somerville offers guests its own brand of 'seaside chic' and warm, welcoming service. Occupying a central location just a five-minute walk from Torquay harbour and town centre, The Somerville has a variety of individually-designed rooms and suites, ranging from standard to deluxe. For the ultimate indulgence, choose The Somerville Suite, which consists of a spacious bedroom, open-plan sitting area and features a designer bath with plasma TV. Guests can also dine at the light and airy Conservatory restaurant while staying at the Somerville, which comes highly recommended.
Rating: 95.78
Average room rate: £95
10 St Michael's, Scarborough
Situated on the north side of Scarborough, St. Michael's Guest House sits in a prime setting – adjacent to the pleasant Peasholm Park and just minutes from the beach. In fact, the vast majority of Scarborough's sights – including the Sea Life Centre and North Bay Railway – are within easy reach. But it's not just the location that makes St. Michael's so popular – the family-run guest house offers six simple and comfortable en-suite rooms, ideal for business or leisure. Visitors to St. Michael's Guest House are also sure to receive a warm welcome, with the staff regularly complimented for their friendly attitude.
Rating: 95.78
Average room rate: £60