Fleewinter launches new programme to Myanmar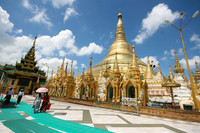 Hot on the heels of the recently staged elections, Fleewinter has launched a programme to Myanmar, a land rich in stunning scenery, Buddhist temples, pristine beaches and some of the most hospitable people in the whole of Asia.
Comments Delia Monk, who travelled extensively through Myanmar to create the new itineraries: "If you like the idea of watching the sun set over more than 2,000 temples, or being rowed across the serene and beautiful Inle Lake, then this might be the perfect destination for you in 2016 - before mass tourism arrives.
"With the first democratic election now under its belt, now is the time to visit this extraordinary land of golden spires, majestic temples and barely-touched beaches. Expect to see wandering monks, water buffalo grazing in scenic landscapes and a local population that still wear traditional dress, yet to be influenced by the west."
Here is just a selection of Delia's new itineraries:
The Essence of Myanmar, 14 days from £1900 pp
This two-week tour takes in the very best of Myanmar; from Yangon and a rural countryside experience in the south to the beautiful Inle Lake and historical temples of Bagan. The trip is rounded off with some time to unwind on the lovely Ngapali Beach.
An Ayeyarwaddy Adventure, 11 days from £1725 pp
Ideal for those who want to see the highlights of Myanmar but with a river cruise at the heart of the trip; pack George Orwell's Burmese Days for those lazy evenings as you sail down the mighty Ayeyarwaddy River, watching the sunset. Enjoy a 4-night cruise which takes in Mandalay and Bagan, before visiting Inle Lake and Yangon.
Summer Tour of Myanmar in Luxury, 11 days from £1620 pp
This itinerary is perfect for those who are looking to travel Myanmar in the low-season (June – early October). Fleewinter has carefully selected the northern and higher areas which receive much less rain including Mandalay, Bagan, Kalaw and Inle Lake - what's more the hotels are greatly reduced in the low season yet you're still staying in the lap of luxury.
All itineraries are merely suggestions and each trip can be tailor-made depending on personal requirements. Flights not included, bookable through Fleewinter (approx. £650 per person).
For further information, visit fleewinter.com.