Bamboo Travel launches new 'Active China' for New Year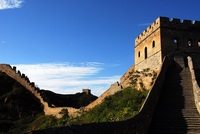 Bamboo Travel has launched a new Active China trip for 2016 which is perfect for those who intend to (try) and continue with their New Year's resolutions whilst on holiday!
The itinerary combines discovering China's best natural and man-made wonders with a plethora of active excursions and adventures.
The trip begins with an alternative look at China's fascinating capital city, Beijing, getting under the surface of this vast metropolis, traversing the city as the locals do – by public transport or by bike - seeing some of Beijing's more off-the-beaten-track attractions along the way.
Next up is China's iconic Great Wall and a two-day trek along some of the more remote and wild sections, with an option to camp overnight on the Wall itself (or alternatively staying in a courtyard-style hotel).
Heading south, embark on a specialised three-day circular cycling tour through the Guangxi countryside, which has some of the most picturesque scenery in the whole of China.
The route is predominantly flat, with a few inclines to put those muscles to the test but well within the capabilities of anyone who cycles fairly regularly. The scenery is dominated by karst limestone peaks, traditional villages and picturesque rice paddies.
Spend some time hiking and rafting around the other worldly Danxia landforms of Bajiaozhai Geo Park before returning to China's urban sprawl in Guangzhou where there will be an opportunity to drink tea with the locals.
The mix of traditional Cantonese culture, hyper-modern architecture, and colonial leftovers give Guangzhou a unique feel among China's mega-cities.
The tour ends in Hong Kong – a 'Manhattan in the Orient' – where you can combine world class shopping (at amazing prices) with some of the best 'urban hikes' in the world, or maybe enjoy a short cruise on one of the famous Star Ferry fleet's boats to one of the outer islands such as Lantau or Cheung Chau.
The holiday costs from £3395 per person (two sharing) which includes international and regional flights, 13 nights' B&B (plus nine lunches and five dinners) road transfers and tours on a private basis, train journeys and a private English-speaking guide.
For more information, visit bambootravel.co.uk.