Island Records launches Session IPA beer with its own playlists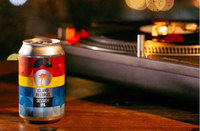 Legendary record label Island Records are launching an exciting new music inspired beer to the UK craft beer market. The 4.5% Session IPA beer is bursting with juicy hop aromas with flavours of citrus and tropical fruits, brimming with positive vibrations and even accompanied with its own Island Records playlist.
Brewed by Two Tribes and marketed by Boutique Bar Brands Island Records Session IPA is a wonderful addition to the craft beer scene.
In November 2014, Robin Pearson, an aspiring brewer and music lover was signed by Island Records to design and brew a signature Session IPA beer. Robin's hoppy creations, brewed under the SoundWaves Brewing brand set up earlier that year had caught the attention of Island Records' Senior Marketing Director, who asked him to design and brew a signature beer for the Label.
"I was approached and asked to design a beer that would reflect the brand, the history and the artists on Island Records" said Robin. "I decided on a Session IPA to give the beer a bright tropical and citrus fruit flavor that picks up on the Jamaican heritage and the palm tree logo that defines the label. I also thought the idea of a 'Session ' IPA sits well with a beer for a record label. Obviously the word "session' itself has musical connotations that fits well with the project."
The first batch brewed in his converted shed in Hove last December was an instant hit with Island Records artists, suppliers and friends of the label, as well as pubs, clubs, bars and specialist shops around Brighton which sold out in a matter of days, so due to increased consumer demand Robin needed to find an independent commercial brewery to help scale production. He partnered with Two Tribes brewery which is owned by Justin Deighton, a producer / remixer and founder of iconic independent label Pacific Records with a string of remixes under his belt. After dj'ing worldwide in the early 90's, Justin landed in the Mash Tun in Brighton and set up Two Tribes brewery with the aim of working with like-minded creatives to produce outstanding craft beers.
Island Records Session IPA is "Best Served With Music" so the team behind it have created bespoke Spotify playlists to deliver the perfect soundtrack for your drinking pleasure. Whether you are relaxing after a stressful day, hosting a party or looking for some new music or a lost classic from the eclectic and diverse Island catalogue, there is music for every mood or occasion. Consumers are also able to "shazam" the beer can to access the playlists using the new Visual Shazam technology, so you are connected to the music in seconds.
"As a lover of music and craft beer and understanding our heritage of pushing boundaries and innovation it seemed the most natural thing to create our own beer and accompanying Spotify playlists. Partnering with a talented local brewer is an extension of the A&R process for us and an example of how we nurture and invest in the creative community" – Glenn Cooper, Senior Marketing Director – Island Records
The groundwork has been laid and the excitement and energy around the beer is building. Boutique Bar Brands, a London based drinks agency at the forefront of the UK craft beer industry, will be responsible for developing sales of the beer in the UK and export markets. Boutique Bar Brands specialise in marketing drinks brands and have extensive experience seeding brands into the UK market.
"We are very proud that Boutique Bar Brands have been involved from an early stage on this exciting project. It was very interesting to understand, and help shape the vision, that Island Records had for the beer. After months of hard work with Robin, Two Tribes and the Island Records team we feel as though we have got a beer that can really go places both here and abroad. The response so far to the beer and the branding has been great and we will hope to have major wholesalers stocking soon." Phil Harding, Director – Boutique Bar Brands
Island Records Session IPA will be available in selected pubs, bars, restaurants. For more information and a list of stockists go to IRSIPA.com
Island Records IPA is available to buy at alesbymail.co.uk/island-records-session-ipa for £2.75
IRSIPA.com