Handbag market slows as shoppers decide the smaller the better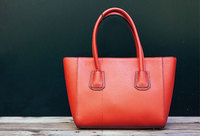 Whilst for many years it's been big bags that have weighed down the arms of the fashion conscious, today it seems that small is beautiful for fashion-savvy Brits. Indeed, new research from Mintel finds that over one in four (29%) of those who have bought a handbag in the past 12 months now say they prefer smaller bags, for instance a grab bag or clutch.
However, it seems that the move towards smaller handbags is having a knock-on effect to the market, with new research from Mintel finding that sales of handbags rose by just 5% in 2015 to reach £1.34 billion in 2015. In comparison, sales grew by 9% in 2014 to reach £1.27 billion.
Alongside the fashion for smaller bags, it seems the market is being hampered by tighter-purse strings. Whilst as many as one in two (51%) women bought a handbag in the past 12 months, three quarters (74%) say that they typically buy bags that are on sale or special offer.
Overall, 31% of Brits have bought a handbag or manbag in the past 12 months making the bag the most popular fashion accessory behind belts, which were purchased by 27% and scarfs, purchased by 23%. Mintel estimates that the fashion accessories market grew by 3.4% in 2015 to reach £2.7 billion.
Tamara Sender, Senior Fashion Analyst at Mintel, said: "While Brits still love their handbags, a love of bargains means the market is slowing. Value sales of handbags slowed in 2015 compared with the previous year as the market became more promotional with retailers and brands selling them at a discount. A change in trend away from large bags such as totes to smaller styles such as cross-body bags, which are indeed lower priced, has also had an impact. Several designer brands have looked to appeal to aspirational shoppers with less expensive diminutive versions of their bestselling styles."
Whilst it is younger Brits who are the most likely to have bought a bag in the last 12 months, they are also the most likely to be investing in designer pieces. Approaching three in five (59%) women aged 16-24 have bought a bag in the past 12 months, with one third (33%) of this group preferring to purchase designer bags. What's more, they are the most likely to avoid the sale rail, with two in five (39%) women aged 16-24 saying they typically buy bags at full price.
But it's not only young women who'll be keeping an eye on the catwalks this London Fashion Week. Of men aged 16-24 who've bought fashion accessories in the last 12 months, 20% bought items from a designer store or brand, up from an average of 9%.
Indeed, Mintel research reveals that label lust is most common amongst younger Brits. Whilst approaching half (46%) of Brits have bought any designer fashion item in the last three years, this rises to almost two thirds (64%) of those aged 18-24. Overall, one in five (21%) Brits agree that it is worth investing in designer brands, rising to over one third (35%) of Brits aged 18-24.
"Designer fashion brands need to increasingly look at ways to attract a new, younger demographic of Millennials who aspire to buy their brands, without losing the exclusivity that is part of the appeal of owning a designer label. Expanding into more accessible fashion accessories is a good way for a designer brand to connect with future shoppers, and we find that more brands are adding handbags, footwear, jewellery and watches to their portfolios." Tamara adds.
Furthermore, Mintel research shows that online purchasing of accessories has risen significantly over the last two years. Some three in five (60%) shoppers have bought fashion accessories online in the last 12 months, up from 52% in 2014. Almost one third (31%) of fashion accessory buyers have bought these items from an online-only retailer in the past year and it seems there's hunger amongst consumers for further growth as some 59% of shoppers say they would like retailers to better showcase accessories online.
Moving forward, technological capabilities and more designer collaborations top the list for future consumer demand in fashion accessories. Over two in five (42%) fashion accessory buyers say they'd be interested in an item that incorporates the latest technology, rising to 47% of men. What's more, 41% of fashion accessory buyers say they'd like more designer collaborations for accessories.
"Tech fashion accessories are becoming a key growth opportunity as wearable technology is becoming more mainstream, and several retailers and brands in the sector are starting to embrace this new category. There is huge potential to combine fashion accessories with the latest technology to create standout items. Smart jewels are set to become the latest trend in the jewellery market, and by merging fashion and technology to create designs that look good and are not just functional, the sector is raising the bar for all wearable devices." Tamara concludes.