Benefits for buyers as Cheltenham homes sell 'off-plan'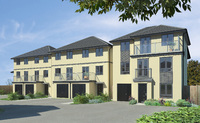 With the chance to customise their new home to their own personal taste, off-plan buyers can reap the benefits of such a savvy move in the long-term.
Elan Homes has launched sales at St George's Mews, just half a mile from Cheltenham town centre, where customers are being invited to buy early in the build schedule in order to have their pick of the properties.

The traditional collection of 12 new and exclusive properties by Clevedon-based Elan Homes features three and four-bedroom townhouses and three-bedroom two-storey homes, many with garages and ranging from 900sq ft to 1,400 sq ft.
A sales office is open on the site, which is regenerating part of the former Spriax Sacro base on St George's Road.
Andrea Nippe, sales director for Elan Homes in the South, said: "There are many advantages to buying a brand new home 'off-plan'. In an improving property market, it offers the opportunity to secure a preferable position on a development. It also means that once a customer has reserved, they are perfectly placed to take advantage of any upturn in property values, and may even find their home is worth more by the time they move in.
"However, for those planning a long-term move, the main benefit of buying at an earlier build stage is that they can select from a range of interior options and specification choices to help make their home individual to them. These include kitchen units and work tops, bathroom tiles, and other added extras that all add up to make a house a home."
Cheltenham has been named in The Daily Telegraph as the number one place in the UK to raise a family.
Andrea added: "Cheltenham has so much to offer in terms of culture, history, sport and excellent schools so it's easy to see why it's so sought after. Our new development is in a great location for families adjacent to a primary school last rated by Ofsted as 'outstanding' and conveniently close to a Waitrose supermarket."
Reflecting the traditional architectural character of Cheltenham externally, inside the well-specified modern homes boast fully fitted kitchens and bathrooms and brand name appliances. They are energy efficient and easier to maintain than their older counterparts on the second hand market.
Prices start from £335,000 for a three-bedroom, three-storey townhouse.

The marketing suite its open Friday to Monday, 10.30am to 4.30pm.

For more information, visit elan-homes.co.uk/st-georges-mews.