A larger home doesn't have to mean bigger bills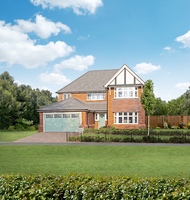 Spring has sprung bringing warmer weather, but if the cost of heating your home over the winter has left you feeling hot under the collar a move to a brand new home in Wolverhampton could be the solution.
As householders receiving their quarterly bills are left counting the cost of keeping warm over winter – and many consider switching supplier – Redrow is encouraging them to think about making a longer term change.
They could discover that by moving to larger, more energy efficient home, such as those at Compton Park, they're able to make savings on their running costs.
The exclusive development offers a choice of substantial four and five-bedroom detached designs from the sought-after Heritage Collection.
Externally, they give a nod to the past with many period-style architectural features. Internally they have all the bright, modern features designed for ease of living.
Those who thought they couldn't afford to run a house like this will be pleased to discover that Redrow homes are more energy efficient than older counterparts thanks to the use of high quality insulation materials, maximum air tightness, low energy boilers and efficient ventilation systems. And all of the homes are fitted with low energy light fittings too.
Research suggests homeowners can save an average of £1,332* per year on energy bills by living in a Redrow home thanks to all these factors.
Pauline Turnbull, sale director for Redrow Homes (Midlands), said: "Our homes have been built with increased airtightness to significantly reduce the amount of heat lost. In fact, the Redrow Homes built in 2015 are 54% better at reducing heat loss than a typical 1970s' home. Researchers have also compared the typical energy use and associated costs for new and old four-bedroom homes and found that newer properties, such as those at Compton Park, are much more efficient and therefore potentially cheaper to run."
Here is how the potential savings add up:
House type Energy cost per year Energy cost per month
Victorian 4 bed semi (with modern day improvements) £2,379* £198.25*
Redrow 4 bed detached £1,047** £87,25**
Savings £1,332 £111
* Indicative costs calculated using Zero Carbon hub house types modelled in NHER Plan Assessor (SAP2009)
** Indicative costs calculated using Redrow house types modelled in Stroma FSAP (SAP2009)
Current prices at Compton Park range from £409,995 to £639,995.

It's not just the design of the homes that's kind to the environment. Redrow has also invested £360,000 in providing a natural Sustainable Urban Drainage System (SUDS) to encourage wildlife to the Smestow Valley Nature Reserve, which adjoins the development and is a popular place for visitors from Wolverhampton and beyond
The showhome and sales office at Compton Park are open daily from 10am to 5.30pm.
For more information see redrow.co.uk/compton.