Unique summer tours to Alaska "the last frontier"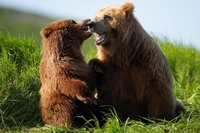 Whether admiring magnificent grizzlies roaming around untamed landscapes, observing great herds of caribou migrating across the tundra or spotting puffins, sea lions and otters from the deck of an expedition cruise ship, Alaska during the summer months is like nowhere else. With an increasing range of tours available from the UK, there are now more and more options for Brits to explore this superlative state.
Enjoy An "Alaska Bear Odyssey" With Wildlife Worldwide
Wildlife Worldwide's "Alaska Bear Odyssey" itinerary combines two prime locations for seeing grizzly bears: Katmai National Park and Kodiak Island. From Anchorage, visitors will take a flight and a floatplane to Katmai National Park to spend two days bear watching – witnessing grizzly bears fishing for salmon in their natural habitat from elevated viewing platforms. Guests will then spend a day on a guided tour of the "Valley of 10,000 Smokes", known for its tempestuous volcanoes and dramatic landscapes. After a stopover in Anchorage, the journey continues to Kodiak Island for more bear watching from different viewpoints including a floatplane and cruise. Kodiak's brown bears are among the largest carnivores on earth, but there also a wealth of other wildlife to observe.
The tour is priced from £6,295 per person, including international and domestic flights, 10 nights' accommodation (4 on B&B, 4 full board, 2 room only), selected activities and guiding with Wildlife Worldwide (wildlifeworldwide.com).
Experience Alaska's National Parks With North America Travel Service
North America Travel Service offers a change to explore the true beauty of Alaska as well as observe its remarkable wildlife on a 14 night fly-drive itinerary including Anchorage, Seward, Talkeetna, Denali National Park, Fairbanks, Copper River, Kennicott, Valdez and Sheep Mountain. Highlights of the tour named "Alaska's National Parks Explorer" include a flightseeing excursion in a small bush plane, a fully narrated wildlife watching tour in Denali National Park and an optional cruise into Prince William Sound to view sea lions, otters, porpoise and humpback whales in their natural habitat.
The tour is priced from £3,799 per person including flights, accommodations and 4-wheel drive car rental booked through North American Travel Service (northamericantravelservice.co.uk).
Travel In Style With Abercrombie & Kent's "Alaskan Ultimate Experience"
Travellers can now enjoy Alaska in style with Abercrombie and Kent's 13 day "Alaskan Ultimate Experience". Designed for outdoor and scenery lovers offering a combination of Alaska's leading hotels and lodges with private flying excursions and glacier landings, hiking, fishing, kayaking, glacier-climbing and wildlife viewing, this tour is perfect for those looking for a real once-in-a-lifetime experience.
The tour is priced from £11,580 per person including international and domestic flights, accommodation and activities. (abercrombieandkent.co.uk)
Explore Denali And The Kenai Fjords With Discover The World
The "Best of Denali and the Kenai Fjords" tour is a leisurely paced self-drive holiday which offers plenty of time to explore scenic attractions and small authentic towns. Travellers will enjoy a memorable cruise deep into the Kenai Fjords, with the chance to see whales, porpoise and sea otters as well as countless glaciers. In Denali National Park, guests will take a tour into the heart of the park itself, taking in soaring peaks, sparkling lakes and the chance to see grizzly bears, caribou, wolves and bald eagles. One of the highlights is an unforgettable dog-sledding and helicopter flight excursion on a remote glacier – the perfect way to experience the Alaskan wilderness.
The tour is priced from £2,925 per person, including 12 night's accommodation, car hire and most excursions (but excluding international flights). Bookable via Discover the World (discover-the-world.co.uk)
Ride The Alaskan Railroad With Artisan Travel
The new "Alaskan Wilderness Trail by Road & Rail" tour combines the scenic Alaskan Railroad with some of the most stunning drives in the world. This unique itinerary take visitors on a loop starting and ending in Anchorage: taking in three national parks and one national forest. Guests will travel through vast wilderness, past towering peaks, glacial lakes and stunning fjords on this is a spectacular 13 day journey of exploration and adventure. Highlights include a round-trip bush plane flight from Chitina to McCarthy and observing diverse marine wildlife whilst travelling on the Alaska Marine Highway ferry from Valdez to Whittier.
The tour is priced from £2,665 per person with Artisan Travel including 12 night's accommodation, car hire, most meals, tickets on the Alaska Railroad, transfers and guided activities (but excluding international flights). Bookable via Artisan Travel (artisantravel.co.uk)
Drive Through Magnificent Landscapes And National
Wexas Travel has launched a new 14-day self-drive taking in the highlights of Denali & Kenai Fjords. Travellers will explore the magnificent landscapes and national parks, featuring North America's highest peak – Mount McKinley. Starting in Anchorage, travellers will head south to Seward to enjoy a full-day, north western fjord cruise in Kenai National Park before continuing south through the volcanic landscapes known as the 'Ring of Fire'. Travellers will spend two-nights in Homer and have the option to enjoy an additional bear viewing tour into the Hallo Bay Wilderness. From there, the tour heads northwards to Girdwood to enjoy a helicopter ride to the base camp in the Chugach Mountains which is also the training ground for the Iditarod sled dogs.
The tour is priced from £3,765 per person including return international flights, 12 -nights' accommodation, 10– day car hire, meals and touring. Bookable via Wexas Travel (wexas.com)
Join Two New Cruises With Royal Caribbean
The "Kantishna Select Wilderness & Wildlife" cruise-tour is one of two new 12-night Alaska cruises for 2017 which offers activities such as hiking Alaska's most accessible glacier, Exit Glacier, kayaking and biking at Eklutna Lake, travelling on the Alaska railroad to Denali National Park and two nights at the exclusive Kantishna Backcountry lodge. The second new cruise is the "Katmai Bear Trek & Kantishna Fly Over" cruise-tour which offers the chance for American Brown Bear viewing at Katmai Park and Preserve as well as two nights in Denali or Anchorage.
For up to date prices, please visit royalcaribbean.co.uk.
Princess Cruises Launches "Cook My Catch"
Princess Cruises has launched Cook My Catch, an exclusive culinary experience offering guests the ability to enjoy their very own catch of the day while on their cruise holiday. The unique cruise dining experience is available on Princess Cruise Vacations during port calls in Juneau and Ketchikan, as well as Princess Land & Sea Vacations featuring stays at Kenai Princess Wilderness Lodge and Copper River Princess Wilderness Lodge. The new offering is available on select Princess shore excursions including Salmon Sport Fishing Adventure in Juneau; Salmon Sport Fishing Expedition, Hunting for Halibut and the Discovery Exclusive Alaska Fishing & Wilderness Dining excursion in Ketchikan. As guests return from their excursion, they select their preferred preparation and accompaniments to be prepared by the culinary team – a unique way to enjoy their very own, wild Alaska seafood.
For more information on Princess Cruises, visit princess.com.
Seabourn to offer Alaska sailings in 2017 for the first time in 15 years
Luxury cruise line Seabourn will offer Alaska sailing in 2017 for the first time in 15 years. The itineraries, on 450-passenger Seabourn Sojourn, will depart from Vancouver and Anchorage for 11, 12 and 14 nights. While the sailings will stop in popular Alaska ports, such as Juneau and Ketchikan, the ship will also dock in smaller Sitka; Klemtu, a small island in Alaska's Inside Passage; and Alert Bay, a tiny Namgis First Nation community in British Columbia.
For more information on Seabourn, visit seabourn.com.
Explore The Most Remote Alaskan Destinations With Ponant Cruises
Ponant Yacht Cruises & Expeditions offers the unique chance to explore some of the most remote locations in Alaska featuring remote territory still unknown and wild, landscapes from wide spaces to gigantic glaciers, steep mountains, infinite tundra and glittering lakes. Starting in Seward, the cruises transport visitors along the dramatic Aleutian Islands and up the north coast stopping in various locations including the Katmai Peninsula, St Paul's island, Barrow and Providenya (Russia) finishing in the gold heritage town of Nome. Throughout the cruise, passengers can observe colonies of sea birds, whales, walruses, grizzly bears as well as polar bears.
Prices for this 15-days expedition cruises start from £5,190 and can be booked via the UK call centre (ponant.com)
Holland America Line Adds Further Land Exploration Opportunities In Alaska
Holland America offers a variety of cruise and land packages in Alaska, allowing visitors to enjoy seven or 14 night sailings combined with excursions to some of Alaska's most popular destinations. The carefully crafted Journeys Ashore options allow cruisers to connect more deeply with the people and places they'll visit with an excellent level of comfort, care and convenience.
As well as various options to visit Denali National Park, Holland America Line now offers the chance to visit the Kroschel Centre for Orphaned Animals in Haines to learn about how the animals orphaned in the centre such as wolves, Kodiak bears, wolverines, porcupines or reindeers thrive in this protected habitat.
For more information on Holland America, visit hollandamerica.com.