Acer expands its Predator gaming line with VR-Ready notebooks and desktops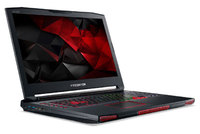 Acer has announced new notebooks, desktops and monitors in its powerful and award-winning Predator gaming line. The new Predator 17 X notebook and compact Predator G1 desktop include top-of-the line computing technology and are NVIDIA GeForce VR-Ready, as well as ready for virtual reality (VR) devices from Oculus, HTC Vive, OSVR and StarVR.
"The new Acer Predator gaming systems are designed to deliver the ultimate gaming and virtual reality experiences for our customers," said James Lin, general manager, Consumer Notebooks, IT Products Business, Acer Inc. "Virtual reality offers unlimited new possibilities, not just in gaming, but across a wide variety of industries and applications in professional environments. As we showed today in our VR partner demos, Acer intends to give our customers the tools they need for both playing and working in this new digital world."
"Acer continues to bring innovations to the gaming community through their Predator line," said Peter Han, vice president Worldwide OEM Marketing, Microsoft Corp. "With Windows 10 they are pushing the limits of the modern PC experience, allowing gamers a choice in where and how they want to play."
Predator 17 X Notebook -- Conquer New Worlds with Desktop Grade Components and NVIDIA G-SYNC 4K UHD Display
Building on the success of Acer's Predator gaming notebooks but ramping up the performance even further, the new Predator 17 X brings overclocking and desktop grade performance to mobile gaming. Powered by a 6th Generation Intel Core i7-6820HK processor, NVIDIA GeForce GTX 980 graphics, and a custom triple-fan cooling system, it delivers an uncompromising combination of power and portability. With overclocking, gamers will enjoy turbo speeds of up to 4.0GHz for the CPU; up to 1310MHz for the GPU; and up to 3.7GHz for VRAM. Fully ready to tackle virtual worlds, its top-end GPU and the high performance CPU makes it an ideal "VR-to-go" platform.
"The Predator 17 X incorporates the world's only notebook GPU powerful enough for virtual reality—the GeForce GTX 980," said Kaustubh Sanghani, general manager of notebook business, NVIDIA. "Gamers and VR content developers will embrace the Predator 17 X's performance, design and mobility, allowing VR to be experienced anywhere and everywhere."
For the ultimate in game play, buttery smooth visuals are delivered on the notebook's 17.3-inch G-SYNC panel. Available with either a FHD IPS (1920 x 1080) or UHD IPS (4K 3840 x 2160) display, NVIDIA G-SYNC technology matches the refresh rate of the screen with the powerful GPU to eliminate screen tearing and minimize stuttering.
All this muscle is enhanced with DDR4-2133 memory and enterprise level NVMe PCIe solid state drives in a three-SATA-SSD RAID 0 array for immense data transfer speeds. Killer DoubleShot Pro enables Ethernet and Wi-Fi connections to work together, so gamers can use Ethernet for gaming while at the same time using WiFi for watching twitch.tv, listening to music or Skyping with friends. Thunderbolt 3 brings Thunderbolt to USB-C at speeds up to 40 Gbps, for one compact port that does it all – delivering the fastest, most versatile connection to any dock, display, or data device. It is up to 8X faster than USB 3.0 and 4X faster than USB 3.1.
The Predator 17 X also includes a new triple-fan cooling system that maximizes heat dissipation and ensures extreme overclocking performance. An Aeroblade fan located near the GPU uses the world's thinnest metallic blades (0.1mm) to simulate aircraft wing flight behavior to enhance fan speed, reduce drag and noise. Together, the three fans optimize air flow while an efficient front intake system brings cool air into the laptop. A vapor chamber, most typically used in server environments for high-performance and cooling efficiency, also helps to dispatch the heat and enable better overclocking performance. The Predator 17 X also includes DustDefender and CoolBoost, which use dual high-speed fans with reverse rotation to remove dust build-up and improve heat dissipation.
Acer's PredatorSense software offers advanced customization options for gaming features like overclock modes, keyboard macro profiles and programmable keys for favorite games and adjustable lighting configurations. In addition, the Predator 17 X's backlit keyboard includes customizable RGB illumination, so gamers can change and personalize lighting zone colors for specific game or profile setups.
Predator G1 Desktop – Power and Portability Make it Perfect for LAN Parties and Gaming on-the-Go
The Predator G1 (G1-710) gaming desktop squeezes awe-inspiring power into a compact 16-liter body and is designed for gaming at home or on-the-go. This highly transportable gaming beast easily fits under an arm or in an optional carrying case, making it the ultimate war machine for serious gamers and LAN parties.
The perfect balance between compact size and great power, the Predator G1's 16-liter chassis supports full size NVIDIA GeForce GTX graphics (up to Titan X), 6th Generation Intel Core processors and up to 64GB DDR4 memory for supremely smooth gameplay2. For gamers interested in virtual reality, just plug in a VR headset and get ready to explore new worlds with the Predator G1 leading the way.
"The growing popularity of eSports coupled with the new compute intensive usage models like 4K gaming, game streaming and Virtual Reality put PCs right at the heart of the gaming revolution. The 6th gen Intel Core based Acer Predator gaming systems will provide the enthusiasts and mainstream gamers the compute horsepower for the most immersive gaming experience," said Frank Soqui, general manager, Desktop Enthusiast Group, Intel Corp.
The new Predator desktop also includes another must-have gaming feature - Killer DoubleShot Pro, which picks the fastest network connection (Ethernet or Wireless) and sends all high priority traffic over that interface, while standard traffic is sent over the other. This ensures the highest priority traffic is always delivered over the fastest and most reliable link.
With support for G-SYNC and 4K2K Ultra High Definition visuals, the Predator G1 provides stunningly smooth high-quality images, delivering games and movies with unparalleled precision and clarity, while Creative Soundblaster X-Fi MB5 and 7.1 channel audio support provide immersive sound.
The Predator G1 also offers massive storage, including up to a 4TB (7200 RPM) hard disk drive or a 512GB solid state drive, while a USB 3.1 Type-C Gen. 2 port adds huge expandability and fast data transfer.
Acer's PredatorSense software can be used to check and control system vitals, set up hotkeys and adjust the multicolored lighting on the customizable "growl lights" along the PC's front chassis. For extra convenience, dual slide-out headset cradles on each side of the PC let gamers place the G1 against a wall and still have a cradle available for use.
Acer also offers a range of optional accessories for the Predator G1 gaming desktop, including a mechanical keyboard, headset and wheeled carrying case.
Predator Z1 Display – Curved Monitor with G-SYNC Delivers Total Gaming Immersion
Acer's new Predator Z1 monitor line introduces mainstream high-performance curved monitors featuring NVIDIA G-SYNC technology to Acer's gaming line up. They are available in 31.5-, 30-and 27-inches, and feature a tight 1800R curve, making it easier than ever to get fully immersed and surrounded by the action. The curved display improves immersion by enhancing the sense of depth, providing a wide field of view and broad viewing angle. G-SYNC matches the monitor's refresh rate with the PC's powerful GPU to eliminate screen tearing and minimize stuttering.
The 30-inch model features an 1800R ultra-wide FHD (2560 x 1080) display with 21:9 resolution and 100% sRGB color gamut, delivering incredible detail for identifying enemies and exploring new worlds. Combined with a fast 4ms GTG (gray-to-gray) response time and up to 200Hz refresh rate, it provides the smoothest possible graphics for unbelievably realistic visuals; fast-moving action and dramatic transitions will be all rendered smoothly without the annoying effects of smearing or ghosting. Lastly, support for 6-axis color adjustment results in beautifully smooth gradation, keeping the intermediate shades of extremely fine colors vibrant and lifelike.
The Predator Z1 series' 178-degree viewing angles and curved design are perfect for multiple monitor set ups, giving an uninterrupted view free of blind spots. An ergonomically designed stand provides tilt and height adjustments making it easy to find the ideal viewing position, while a useful swivel feature automatically adjusts images from portrait to landscape. A quick-release design releases the monitor from the stand for wall-mounting. In addition, cables can be hidden inside the stand to keep the gaming area organized and clutter free. Select models include an ambient lighting feature which offers multiple and customizable colors (red, green, blue, white, orange) and styles (fixed, pulsing, flashing or rippling).
The Predator Z1 monitor also includes other gaming features such as AcerVisionCare and BlueLight Shield to lessen eye fatigue, and GameView, which enables special settings such as dark boost, which fine-tunes visuals for more details in darker scenes, and aim point assistance to help get the jump on opponents and perfect shots.