Mindfulness for Wellbeing Weekend, Norfolk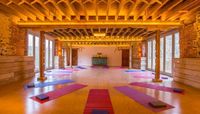 Yoga and mindfulness holiday specialist Satvada Retreats, has created a three-night break called Mindfulness for Wellbeing Weekend, which is based at meticulously converted barns, set in 21 acres, within the heart of the rolling countryside of rural Norfolk.
The old barns have been converted maintaining the original beams, lime and flint walls and the design has been modelled on big open spaces. Handmade furniture and under-floor heating in the bedrooms and yoga studio are fired by the biomass boiler burning local, environmentally-managed woodchip. Roof-top solar panels ensure the whole site is run almost 100% on renewable energy.
Comments Darren Cooper, one of the founders of Satvada retreats, "During the busy build up towards Christmas, our intention is to offer a friendly, nourishing weekend, suitable for both complete beginners to mindfulness, and those more experienced, seeking a refresher.
"The break will create a chance to enjoy winter walks, chats by the wood burner, eat delicious vegetarian cooking, and to engage in restorative yoga to complement the mindfulness practices.
"There will be a period of extended silence towards the end of the weekend, intended as providing the space to deepen our mindfulness practice without distraction or external stimulation."
During the break, guests will experience a core range of mindfulness practices in a thoroughly accessible way, and, in order for the body to be still for a while in more comfort, to combine periods of meditation with optional Mindful Movement/yoga sessions.
In keeping with the objectives for the weekend, outside distractions will be avoided by the switching off of mobile phones and all other devices.
The break is from 2-5 December 2016 and costs from £599 per person (two sharing).
This includes four mindfulness sessions per day (including both Saturday and Sunday), two optional periods of yoga per day (including one Restorative Yoga session), three night's accommodation, brunch, afternoon tea, fruit and snacks and dinner each evening.
For more information, visit satvada-retreats.co.uk.