Euro 2016: Where the teams are staying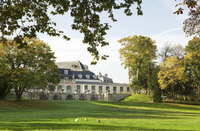 Euro 2016 has kicked off, with 24 nations battling over the next month to be crowned champions of Europe. Hosted by France this year, each team has been assigned a luxury hotel to use as their base camp, in order to rest up and stay on top of their game. Hotel search website trivago.co.uk is able to reveal below where ten of the teams are staying, from England's country estate in the Domaine de Chantilly to Ireland's historic palace overlooking the Chateau de Versailles.
1. England - Auberge du Jeu de Paume, Chantilly
Roy's Boys are staying in the plush Auberge du Jeu de Paume, located within the Domaine de Chantilly and just 25 minutes from Charles de Gaulle Airport. Boasting 92 rooms and suites, the hotel will offer the players refined luxury. The gourmet restaurant La Table du Connetable is run by two-star Michelin chef Arnaud Faye, and there is also the option of less formal dining in the Jardin d'Hiver. After battling some tricky Group B opponents, the players can relax in Spa Valmont, which features treatment rooms, an indoor swimming pool, a sauna and steam bath. Away from training, Wayne Rooney, Jack Wilshere and other Three Lions players can maintain their fitness in the hotel's gym and the nearby park.
2. Belgium - Golf du Medoc Hotel & Spa, Bordeaux
With three of their Group E matches taking place in southern France, Belgium have elected to stay at the Golf du Medoc in Bordeaux. The hotel is nestled among the most famous golf courses of the region and there are 36 holes on site, ensuring it lives up to its name. The 79 spacious en suite rooms are furnished with flat screen televisions, a safe and minibar. Away from the pitch, Eden Hazard and co can look forward to dining in the hotel's two restaurants, which serve delicious French cuisine and offer panoramic views. The players can unwind in the bars and relax in the spa, as well as the indoor heated swimming pool. There is also a fully-equipped gym to help maintain their stamina throughout the tournament.
3. Croatia - Hotel du Golf Barriere, Deauville
With Chesterfield furniture and tartan fabrics, Hotel du Golf Barrière would serve as a home away from home for the Scotland team, but unfortunately the Tartan Army failed to qualify for Euro 2016, so Croatia get to enjoy this casual, contemporary atmosphere instead. Hotel du Golf Barrière has 170 rooms and suites decorated with brushed oak and leather patina, as well as panoramic views of its prestigious 27-hole golf course or the sea. There's a whole host of amenities here to keep Luka Modric and his Croatian team mates occupied throughout their stay, including an Olympic-sized swimming pool, three clay tennis courts, a fitness centre and the option of a massage in each guest's room. The players can look forward to exotic casseroles served in the Club House restaurant, and unwind in the on-site bar and casino.
4. Wales - Novotel Thalassa, Dinard
Novotel Thalasso Dinard is located between Mont St Michel and Cap Frehel on the outskirts of Saint-Malo in the north-east of France. For their first international football tournament since the 1958 World Cup, Chris Coleman's Welsh team will be staying in a fully-refurbished four-star hotel that boasts gorgeous ocean or garden views from each room. The hotel's health centre is bathed in natural light and includes an indoor heated swimming pool filled with sea water, a hammam and a fitness room. The players can undergo daily or weekly treatment programmes, with a variety of massages available. All this should ensure the likes of Gareth Bale and Aaron Ramsey are fully-charged ahead of the team's Group B clash with England in nearby Lille.
5. Germany - Hotel Ermitage, Evian
Ever the contrarians, Germany have opted to stay in a hotel that wasn't on UEFA's list. Jogi Löw's world champions will be staying in the exclusive four-star Hotel Ermitage in Evian, located on the French-Swiss border and overlooking Lake Geneva. Ermitage's history stretches back to the early 20th century, and it has lost none of its old-world charm a hundred years on. The hotel's 80 colourful upscale rooms and suites each have minibars, flat-screen TVs and en suite bathrooms, and many have balconies with lake or mountain views. Players like Mesut Özil and Thomas Müller can get the full Mediterranean experience away from the pitch by taking a dip in the outdoor pool (which doubles up as a bar and restaurant) in the shade of age-old olive trees.
6. Italy - Hotel Courtyard by Marriott, Montpellier
Antonio Conte's Italy team will be staying in Hotel Courtyard next to Montpellier's city hall ahead of their matches in Group E. This modern hotel was designed by Jean Nouvel and only opened in February 2012, just four months before the start of the last European Championship. Hotel Courtyard offers 123 en suite rooms, and the players can look forward to dining on succulent Mediterranean food in the sleek Oleo Pazzo bistro, which also has a lounge bar. Captain Gianluigi Buffon can rally his teammates to enjoy some extra-curricular workouts at the fitness centre and in the outdoor pool. Those looking to quench their thirst for culture away from the field can visit the Fabre Museum and other local city attractions just a few tram stops away.
7. Poland - Hermitage Barriere, La Baule
Overlooking La Baule's bay, the elegant Hermitage Barrière features 184 rooms and 16 suites, as well as nine red balconies recently added to the hotel's famous facade that offer guests unrivalled views of the Atlantic. Many of the rooms have been decorated in blue and beige fabrics to reflect the maritime theme. Robert Lewandowski and friends can take time out in the hotel's thalassotherapy centre, which includes salt water pools and a hamma, and ready themselves for their matches in the fitness centre. The players can partake in activities as varied as water sports, golf and horse riding, and enjoy a nightcap in the hotel's piano bar.
8. Northern Ireland - Chateau de Pizay, St-Jean-d'Ardieres
Northern Ireland have opted for a four-star hotel in the heart of Beaujolais country int he centre of France, 90 minutes from Paris by high-speed train and 45 minutes from Lyon. Built between the 11th and 19th centuries, Château de Pizay is one of the largest estates in the region and stands in a French garden designed by Le Notre. The hotel's 48 duplex suites overlook 80 hectares of vineyard and 30 hectares of forest. Michael O'Neill's players certainly won't be short of things to do during their stay here – as well as a superb 1000-metre-squared spa, a heated outdoor pool, a tennis court and a restaurant with a courtyard, Château de Pizay boasts a billiards room, an art gallery and a wine-initiation course in the vineyard!
9. Spain - Hotel Atalante Relais Thelasso & Spa, St-Martin-de-Re
Holders Spain are gunning for their third European Championship in a row, having emerged victorious in 2008 and 2012. Vicente Del Bosque's team will be mapping out their route to a Euro hat-trick from the four-star Hotel Atalante Relais, which sits on the charming island of Ile de Re, connected by bridge to La Rochelle. The Hotel is set within a five-hectare park between the sea and a number of vineyards, and has 94 well-appointed en suite rooms. Players like Andres Iniesta and Cesc Fabregas can experience the on-site thalassotherapy facility between games, and keep match-fit in the elite gym and outdoor pool. The Spanish team can unwind in the two restaurants, including Atalante, which serves fine seafood and local fish.
10. Ireland - Trianon Palace, Versailles
Trianon Palace is a regal woodland retreat nestled on the edge of the tranquil Royal Domain, just 20km away from Paris, and features a range of rooms and suites to suit all tastes. The Ireland team can take advantage of the exclusive spa and fitness facilities, and stroll around the hotel's meticulously manicured gardens. The hotel recently underwent an artful redesign and boasts gourmet dining including the Michelin-starred Gordon Ramsay au Trianon – although expect sparks to fly if assistant manager Roy Keane takes issue with the standard of his steak and the head chef is in town!