Seven San Francisco museums where the food is as good as the art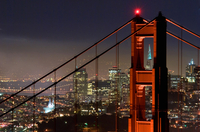 An art museum is as much about the experience as it is about the individual exhibits themselves. The sights and sounds - the overall ambiance - can help create a memorable visit to a place of inspiration and creativity. In San Francisco, the dining establishments are also considered part of the art.
San Francisco abounds with fascinating art museums that are also rich in dining experiences. This city and its museum restaurants will pull you in with creative offerings and upscale, sustainable dining experiences sure to delight the palate and the eye.
In Situ at SFMOMA
First on the menu is In Situ, the newest restaurant at SFMOMA, which opens to the public for lunch and dinner in June 2016. Chef Corey Lee has previously received three Michelin Stars, and now he is serving up a brand new dining experience. In Situ will have a revolving menu that, over the course of a year, will feature 90 dishes. Some items call for ingredients that are only available for a few weeks each year. sfmoma.org
Cafe Asia at Asian Art Museum
Civic Center's Asian Art Museum overflows with cultural treasures and its restaurant, Cafe Asia, aims to complement the collection. Cafe Asia does not require you to pay museum admission to enjoy its rich Asian cuisine, but the experience is nevertheless designed to accompany a gallery visit — taking your day from exceptional to outstanding. From Japanese Curry Chicken to Seaweed Salads to its limited edition dong po rou (pork belly), served in honor of the "Meat-Shaped Stone" on display with the Emperor's Treasures, Chef Melinda Quirino's menu will give you a memorable dining experience. asianart.org
de Young Café at de Young Museum
Fresh is the rule at de Young Café inside the de Young Museum, where the ingredients are sourced locally and the farming connections are sustainable. Chef Lucas Schoemaker from McCalls Catering directs the establishment and provides a rotating, seasonal menu that will appeal to many tastes (don't miss the Summer Squash + Sundried Tomato Quiche or the Black Mission Fig + Blue Cheese Flatbread). After you wander in from Golden Gate Park, you'll appreciate how the relaxed dining area goes perfectly with the lush, natural scenery. From morning nibbles to mid-day noshes, de Young Café serves up creative elegance with exceptional taste. famsf.org
Wise Sons Jewish Delicatessen at Contemporary Jewish Museum
From its original location on 24th Street, Wise Sons has expanded into the Contemporary Jewish Museum and the menu keeps downtown locals coming back. You'll find everything from house-made bagels to double-baked rye, and the smoked pastrami is piled high to keep your belly full while you wander the galleries at CJM. Don't miss the Babka or Rugelach; when served alongside coffee or tea, it will keep you smiling and yearning for more Jewish comfort food. Wise Sons Jewish Deli is open for lunch and doesn't require museum admission. thecjm.org
SEAGLASS Restaurant at the Exploratorium
Located along Pier 15, the Exploratorium's SEAGLASS Restaurant combines fresh, local produce with one fine waterfront view. Your experience at SEAGLASS will always be unique due to the ever-changing menu, and each of your visits will further solidify your appreciation for Chef Loretta Keller's approach. Touted as family-friendly yet inventive, SEAGLASS will encourage minds of all ages to appreciate nature's bounty and expand the horizons of all that creative comfort food can become. exploratorium.edu
Legion of Honor Cafe at Legion of Honor
Situated on Lands End and Lincoln Park — one of the most beautiful settings in the city — Legion of Honor Cafe at Legion of Honor has delightful dishes that pair well with the exceptional surroundings. Chef Lucas Schoemaker, also famed for his menu at de Young Cafe, provides rich, nourishing dishes that honor American and European cuisines. Many dishes are named after notable designers. Order up a James Galanos sandwich or a Diana Vreeland salad — you won't be disappointed. famsf.org
Bryant Terry, Chef-in-Residence at Museum of African Diaspora
Chef Bryant Terry doesn't have a dining area at the Museum of African Diaspora, but his ingenious approach to food has made him well-known and respected nonetheless. Terry hosts pop-up events in the museum, as well as throughout the community. He often focuses on food activism and farming, while encouraging people to blend flavors and styles. As you may expect, art and culture is an important part of his teaching style, and it blends in beautifully with the museum's photography galleries, sculptures and craft work. To plan your museum visit to coincide with one of Terry's outstanding dining events, check the website for upcoming presentations. moadsf.org
For information on reservations, activities and more, visit sanfrancisco.travel.