Help to Buy proves popular with Shropshire buyers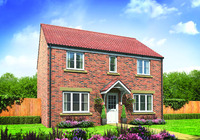 Government-backed Help to Buy is proving popular at a new housing development in Shrewsbury with more than half of its buyers opting to use the shared equity scheme.
Persimmon Homes West Midlands is currently building 230 homes at Archery Fields, in Shillingston Drive. House buyers have been keen to buy off-plan without even setting foot in the properties due to the high demand for new-build properties in the town.
Since the development launched towards the end of last the year, the builder has taken 40 reservations with 22 of those using the Help to Buy scheme.
Stephen Cleveley, director of sales and marketing for Persimmon Homes West Midlands, said: "Help to Buy has been a huge success since its initial launch in 2013 and we are especially seeing its popularity in Shrewsbury.
"Of course, many of the purchasers are first-time buyers, and this scheme does suit people who are struggling to put together a large deposit. Help to Buy provides a 20 per cent loan on the term of your mortgage, which is interest and repayment free for the first five years, while buyers only need a five per cent deposit.
"The scheme also suits buyers who are keen to move up the property ladder but have limited equity," he added.
Persimmon Homes is providing a diversity of house types at Archery Fields to suit all needs, from two to five-bedroom properties. Three-bedroom properties are available from £162,500 with three- bedroom detached homes starting at £209,950 and four-bedroom detached from £239,950.
Mr Cleveley added: "We have recently launched our showhome at Archery Fields, and welcomed our first 16 new residents to the development, so we are expecting interest to increase even more.
"We have always been confident that the development would sell quickly due to its great location for commuters, together with fact that it is within walking distance of the town's park and ride facility."
For more information, visit persimmonhomes.com.