Basildon buyers urged to register their interest as work gets underway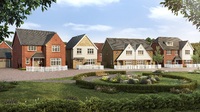 Construction of new homes in Dry Street, Basildon, has only just started but Redrow is already building a database of potential purchasers.
The award-winning housebuilder has planning permission to build 181 homes on a 14 acre site.
Known as Westley Green, it's part of plans for a wider development of up to 725 homes, which will also see Redrow invest in the local community with plans for a new primary school and public open space.
Properties in the initial phase aren't due to be released for sale until next year, but that's not deterring would-be homeowners.
Kerry McCoubrey, sales director for Redrow Homes (Eastern), said: "We've been receiving enquiries from people wanting to live at Westley Green since outline permission for the wider development of up to 725 homes was granted back in 2013.
"Now that people can see work has started on site we're anticipating a renewed level of interest. We're already building a database of keen potential purchasers and would encourage those considering moving here to make contact so that we can keep them informed of our progress as we work towards releasing the first properties for sale in 2017."
The first phase of Westley Green will offer a choice of three, four and five-bedroom semi-detached and detached homes from Redrow's sought-after Heritage Collection of Arts & Crafts influenced designs.
Redrow has contributed £500,000 to enable the Longwood Equestrian Centre relocate to new purpose built facilities within the district.
The company will also fund works to widen a section of Dry Street and other local highway network improvements. Protected ecological pastureland will be retained as part of the development, along with separate area of green open space for residents to enjoy.
Other community benefits, including the planned primary school, will be incorporated into future phases of the multi-phase development.
The sale proceeds from the first phase will go towards town centre improvements including the relocation of the market to St Martins Square, and the relocation of South Essex College to the original market location providing a new state of the art college building in the town centre, similar to their other campuses at Southend and Thurrock.
Redrow has joined with the college to champion a 'student of the year' award and to promote careers within the construction industry to students.
To register your interest in the homes at Westley Green see redrow.co.uk/westley.