Don't miss the open day at Sketchley Grange for exclusive offers and competitions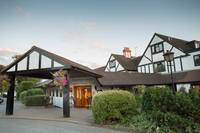 After investing a staggering £1.5 million into an extensive refurbishment programme, Sketchley Grange Hotel & Spa in Hinckley, Leicestershire, is inviting the public to attend an open day this July to see what's on offer.
On Sunday 17th July, the four-star hotel is hosting a special event to showcase its first-rate facilities and stylish new look – including the contemporary new bar and lounge area, upgraded guest bedrooms and luxury spa and leisure amenities.
Everyone is welcome to pop along to the open day – which will run between 11am and 3pm – and in celebration of Sketchley Grange's refurbishment, visitors can look forward to exclusive offers for weddings, Christmas parties, spa breaks and gym memberships, along with discounts for both the restaurant and bar.
Paul Noble, General Manager at Sketchley Grange Hotel & Spa, says: "We are really excited about the future for Sketchley Grange and we want the local community to come and see the improvements we've made.
"The £1.5 million refurbishment was much needed and we're really pleased with the outcome – the hotel now has a fresh and vibrant feel but it's also a welcoming environment for people of all ages.
"The open day on 17th July presents a perfect opportunity for people to pay us a visit and see for themselves how things have changed. We'll have lots of special offers and competitions on the day so it's a great excuse to pop along, enjoy a glass of fizz and take a tour of the hotel."
Sketchley Grange Hotel & Spa is a well-established venue in the local area, having originally opened its doors more than 30 years ago. New owners purchased the hotel late last year and it is now operated by Focus Hotels, one of the UK's most successful hotel management companies.
The £1.5 million refurbishment programme has carefully ensured the hotel's traditional character dovetails with the contemporary amenities. A new bar and lounge area opened in June and the hotel has opened its 100th guest bedroom as part of the refurbishment of its accommodation. The Romans Health Club also received a £47,000 investment to install state-of-the-art gym equipment.
Nestled away in an enviable location on the borders of Leicestershire and Warwickshire, Sketchley Grange Hotel & Spa is a charming country house hotel boasting prestigious facilities and elegant accommodation.
Surrounded by trees, Sketchley Grange benefits from a leafy, rural backdrop, yet is just minutes away from Hinckley's flourishing town centre with its expanding choice of shopping and leisure opportunities. The M69 is also within easy reach for convenient links to Leicester, Coventry and other parts of the Midlands.
Designed with a cosmopolitan vibe, the Garden Restaurant, which overlooks the beautiful hotel gardens, features a seasonal menu including only the finest local produce and fresh ingredients to create an irresistible variety of mouth-watering dishes to suit all diners.
For a truly relaxing retreat, the Romans Health Club at Sketchley Grange is the perfect place to rest and rejuvenate with its 17ft swimming pool, heated whirlpool, pool-side loungers, Cedar Wood sauna and aromatic steam room. The hotel also offers an array of luxury spa treatments, a highly-regarded hairdressing salon and a well-equipped gym.
Couples searching for the right venue to host their dream wedding can rest assured that the dedicated team at Sketchley Grange have a wealth of knowledge and experience to ensure their special day is exactly how they imagined.
The hotel is also a popular venue for business meetings, corporate events and private parties, thanks to the selection of high-quality function rooms, suites and conference rooms available to hire.
The open day will take place between 11am and 3pm on Sunday 17th July at Sketchley Grange Hotel & Spa, located off Sketchley Lane, Hinckley, Leicestershire, LE10 3HU.
For more information visit sketchleygrangehotel.co.uk.