Downsize to a new home at Pengelly Meadows - and have more time to enjoy life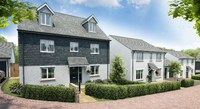 Home-owners planning for the future are being encouraged to consider the benefits of downsizing to a brand new home at Taylor Wimpey's Pengelly Meadows development in the charming village of Carnon Downs, near Truro.
Moving to a smaller property takes away the hassle involved in cleaning and maintaining a big family home for a start – and it releases cash from the old place too, giving purchasers more time and money to enjoy life instead.
A smaller home is also much cheaper to heat – especially when it's an energy-efficient brand new property.
Clare Brimble, Regional Sales and Marketing Director for Taylor Wimpey, says: "Cleaning and maintaining a big family home – all those rooms to vacuum and exterior woodwork to maintain – can become more of a hassle as the years go on and older home-owners are often left facing the prospect of needing a cleaner, a gardener or a decorator to help out with jobs they might have tackled in the past.
"Choosing to downsize to a brand new property takes away all this worry in an instant. Everything is brand new and freshly decorated, while there's a neat and tidy new garden and new low-maintenance UPVc double-glazing. What's more, if they purchase at an early stage of the development, buyers can choose their kitchen and tiles!
"And, of course, downsizing to reduce the mortgage – or release capital – gives people more money to make the most of life and enjoy treasured experiences with loved ones, whether it's a memorable family holiday with the grandkids or a long-dreamed-of round-the-world adventure with their partner.
"It's also a great opportunity to de-clutter and arrange special possessions in places they can be seen and enjoyed – all those family photos that were in the wardrobe. Then, they can clear out any junk that's been stored for years."
There's a superb selection of new homes currently available to reserve at Pengelly Meadows including four-bedroom properties from £282,000 and five-bedroom houses from £445,000.
Carnon Downs is a sought-after village with a wealth of local amenities – including a post office, shops and a supermarket, a medical centre, a village hall, a pub/restaurant and a garden centre – and a thriving community.
At the same time it's just off the A39 and only four miles from the city of Truro, which is well-known for its dramatic cathedral, cobbled streets, open spaces and elegant Georgian architecture.
Truro is also great for shopping, including the indoor Pannier Market. There is also an abundance of restaurants and cafes, good nightlife and a top leisure centre. The city's Hall for Cornwall is a major theatre and concert venue and Truro railway station opens up a further great swathe of the south-west, with a direct service to London.
There are a number of primary and secondary schools near Pengelly Meadows, including the highly regarded Devoran School for primary age children, rated 'good' by Ofsted.
Pengelly Meadows is also in the heart of a region that many people choose for their holidays. Local attractions include the wonderful Roseland Heritage Coast to the south and St Agnes Heritage Coast to the north, and some of the finest beaches in the UK. Also in comfortable range are tourist favourites like The Eden Project, the Lost Gardens of Heligan and Tate St Ives.
To find out more about the benefits of downsizing at Pengelly Meadows, property-seekers should visit the Sales Information Centre, located off Bissoe Road, Carnon Downs, Truro, TR3 6LQ, and open Saturday to Thursday from 11am to 5.30pm and Fridays from 1pm to 5.30pm. Alternatively, visit taylorwimpey.co.uk.