M&S staff fired up by Dragon Boat racing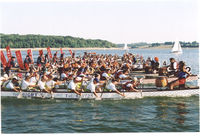 It's colourful, it's crazy and it's for charity!
The Dragon Boat Festival at Bewl Water in Kent, the biggest event of its kind in the country, combines great team building, a brilliant family day out and fundraising to support national and local charities.
High street name, Marks & Spencer, is one of the organisations putting in a team of dragon boat paddlers to raise money for Tree of Hope, the charity that supports families that need to pay for life-changing treatment and therapy for children with complex needs.
Store operations manager in Royal Tunbridge Wells, Simon Walker, says it's already creating a buzz.
"We've got a brilliant and enthusiastic team aged from their early twenties to their early sixties. Getting them into shape is more about making sure they are all having fun and getting lots of sponsorship.
"Fundraising's all about theatre so the M&S staff lounge is going to be my stage for the next few weeks!"
The Festival, near Lamberhurst, consists of a series of thrilling races in brightly coloured Chinese-style dragon boats in the safe environs of the Bewl Water reservoir. Teams comprise a minimum of 16 paddlers and a drummer and organisers say absolutely no physical ability or previous experience is needed although organisations do return year after year to fundraise for their favourite charity.
Teams are encouraged to bring along supporters and the day starts with a colourful variety of marquees and gazebos being erected and food and drink coming on site – from fully catered hospitality tents to a couple of back packs of sandwiches and crisps. There are also stalls where food and drink is available to buy.
There are activities for children and adults such as bouncy castles and go-karts and participating charities also set up entertainment.
Tree of Hope is a charity that supports families raising money to pay for treatment and therapies that are not freely available on the NHS.
"Parents of children with complex conditions face so many challenges just coping with the child's medical needs. When it comes to fundraising to pay for treatment that could help those conditions, they can turn to Tree of Hope for support and advice," explains trustee Pip Lightbody.
"The difference the treatments can make is startling; some children are able to walk for the first time, others gain independence they didn't think possible. These children can make incredible progress but the challenge is that it all costs money and the need for fundraising never goes away. Many children require years of therapy and new equipment as they grow. Families need to adapt homes to allow for the child's disability.
"Teams who raise sponsorship through the Dragon Boat Races are making a huge difference to people's lives," he adds.
The Bewl event is in its 19th year with space for up to 60 teams. It's widely covered through local and regional media, ensuring a high profile for all organisations taking part.
Pip says many companies make it their main summer staff event.
"It's a great event for businesses. The company pays for one or more teams to take part and they invite other staff and their families and set up a marquee with food and drink. The teams are encouraged to wear fancy dress and, as you can imagine, it can get very competitive."
Anyone can put together a team to raise money for their favourite charity.
Although teams need a minimum of 16 plus a drummer to help them keep in time, a few reserves are useful so that paddlers can be substituted if necessary. Every team takes part in at least three races across a 250 course so members can be rotated.
Organisers provide life jackets and a helm to guide the boat and every member has a safety briefing before the races begin.
What to do next:
Bewl Water Dragon Boat Races take place on Saturday 10 September 2016. Entry per team is £340 and each team should try to raise a minimum of £2,000 in sponsorship.
If you would like to support Tree of Hope, email their fundraising manager, Emma Bourne, at emma[at]treeofhope.org.uk
For further information about Tree of Hope, visit treeofhope.org.uk
For further information about Bewl Water Dragon Boat Races, visit funraisers.org.uk