Seven apps and technologies hotel owners should use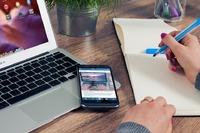 Running a hotel can be a challenge. Not only do you need to consider the day to day operations like housekeeping and maintenance, but you need to worry about marketing, communications and making sure your customers are happy. To offer a helping hand, we have put together a list of our seven favourite apps and technologies which we recommend to every hotelier.
Eviivo
Eviivo is an all-in-one companion that allows you to offer online booking as part of your bed and breakfast. You can take bookings from leading travel websites like Booking.com and Expedia, and see and manage all of your bookings online or on an easy-to-use application, making it easier than ever to keep your customers satisfied in our ever-digital world.
iTranslate
If you accommodate international guests in your bed and breakfast, then the iTranslate app, which is the world's leading translation and dictionary app, is the way to go. With it, you can easily translate text, websites and voice in over 90 languages, so you'll always be able to offer a warm welcome.
InHotelApp
The InHotelApp was designed to enhance customer experience and offer useful and practical information during their stay – taking pressure away from you and your staff. You can load the app with data such as facilities, booking links, GPS services and social media, while the app can also double as a travel guide and provide information like attractions, restraints and travel details.
Appytect
If you want to take the leap and design an app for your hotel, then Apptect is the way to go. This mobile app development tool was designed by eZee Technosys and allows members of the hospitality industry to create their apps easily and effectively.
Appytect offers features which can help improve the guest experience, including a travel guide, booking engine, GPS tracking, instant feedback and other features which can help but your bed and breakfast ahead of the competition – but if you're running a tight operation, is it worth the cost?
Google Maps
Loading Google Maps onto your company phone or iPad can be a sensible suggestion, as you'll be able to offer directions and advice easily for your customers and guests. Whether it's where to eat at dinner or where to go for a fun day out, you'll have all of the information you need to impress.
Wunderlist
If you struggle to organise your time effectively, then the Wunderlist app can offer you a chance to stay one step ahead. Whether you're sharing the weekly grocery list with your business partner or you're working on a new pricing structure for your rooms this app allows you to share and collaborate easily, plus it instantly syncs between your phone, tablet and computer, so there's no excuse not to stay productive and organised.
Doorbot
If you run a bed and breakfast and want to offer security to your guests, then a doorbell is a great way to go. But if you're busy housekeeping or relaxing, it can be easy to miss the bell! With the Doorbot Wi-Fi doorbell, your phone will be alerted as soon as somebody arrives so you can offer a warm and welcome reception every time.