In-demand Walsall homes development is totally sold out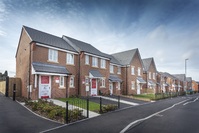 Buyers have snapped up all homes for sale at Lovell Homes' popular Eden Valley development in Walsall.
Eden Valley – a high-quality development of 31 two- and three-bedroom homes just over a mile from the town centre – is now fully sold out, the developer has announced.
"We're delighted that the development has sold out but not surprised," says Lovell field sales manager Jennie King. "Eden Valley has so much to offer. Lots of purchasers have been attracted by the well-designed, spacious interiors as well as being fans of the impressive build quality and standard of finishing which you find in all our homes. Another major selling point has been the opportunity to secure a brand-new contemporary property in an established neighbourhood, near the centre of Walsall and with brilliant transport connections for anyone needing to travel across the Midlands.
"It's also been pleasing that Eden Valley has made it possible for so many first-time buyers to take their initial step on to the property ladder. To see so many people settling into their first home of their own at the development is lovely."
New Lovell homes in West Bromwich
If you missed out on a brand-new home at Eden Valley, why not register your interest in the latest homes set to be released by Lovell at its successful Harvills Grange development in nearby West Bromwich? In a plum spot for commuters, Harvills Grange is less than a mile from the A41 Black Country New Road which gives direct access to the M5 and M6. The West Bromwich Central tram stop on the Midlands Metro Line provides frequent services in both directions between Birmingham and Wolverhampton. West Bromwich itself has become a popular shopping destination with the landmark New Square shopping and leisure complex offering a wide choice of stores as well as restaurants and an Odeon cinema.
Lovell will shortly release a new selection of two-, three- and four-bedroom homes at Harvills Grange. For more information, visit lovellnewhomes.co.uk, or download the Lovell Homes app.