Part exchange could be the answer for West Sussex buyers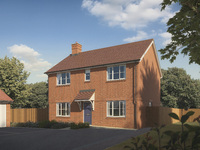 A leading regional housebuilder is looking to make moving home easy for house hunters in West Sussex this summer.
Charles Church South Coast is offering a Part Exchange scheme on its three bedroom homes at their Emerald Gardens development in Yapton, helping people move into their dream property without the hassle of putting their existing home on the market.

Mark Docherty, sales director for Charles Church South Coast, said: "Our Part Exchange scheme can help buyers to make their move more quickly and easily without the hassle of selling their existing property, benefiting those looking to buy a new home in Yapton.

"More and more people are taking advantage of the part exchange scheme to ensure they get the home they desire with minimum fuss."

The Part Exchange scheme assists people looking to buy a new home without the hassle of selling their existing property. Charles Church will arrange for at least two evaluations, agree a market price and buy the property. There are no hidden marketing costs, no chains to break and people can stay in their property until their new home is ready.

The Emerald Gardens development is perfect for families and couples, offering an unrivalled collection, of three and four bedroom properties located in the beautiful 13th century village of Yapton, with prices starting from £253,995.

Mark added: "With such high levels of interest in the remaining properties, I'd encourage anyone looking to purchase a new home to come and see us before it's too late."

For more information on Part Exchange at Emerald Gardens visit charleschurch.com.