Pure McLaren launches its inaugural ice driving experience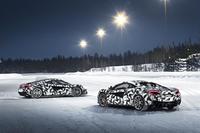 Pure McLaren has announced its inaugural ice driving experience, taking place in January 2017. Set against the backdrop of northern Finland, 200 miles into the Arctic Circle, Pure McLaren Arctic Experience will be the only ice driving programme in the world to offer the thrill of the multi-award winning McLaren Sports Series.
The programme is designed to give guests an extraordinary experience on snow-covered roads and ice track. Like all Pure McLaren events, the exhilarating programme is tailored to the driver's needs to help them achieve their goals, whether that's mastering the infamous Scandinavian flick or building their confidence in challenging driving conditions. The team of professional driver coaches from Pure McLaren are working with renowned winter testing facility Test World, a leading proving ground based in Ivalo, Finland, to provide one of the most varied ice driving experiences available. Test World's expansive grounds coupled with Pure McLaren's professional drive team provide a safe and secure environment to learn and practice in.
Guests will experience the multi-award winning McLaren 570S Coupé,tackling a variety of track configurations, encompassing both ice and snow surfaces. The exhilaration continues away from the track with Pure McLaren teaming up with local travel provider Luxury Action to offer an exciting programme of winter activities, including a husky safari and snowmobile expedition. Accommodation will be provided in the beautiful Jávri Lodge, the former home of the President of Finland. Here guests will enjoy the very best of Finnish hospitality in a remote location nestled within the untamed Lappish wilderness. Built by Urho Kekkonen, the longest serving President of Finland, it is set amongst vast lakes and forests and is in an ideal position for viewing the Northern Lights.
The Pure McLaren Arctic Experience will take place from January 15 to February 3, 2017 and offers groups of up to 14 guests a three night stay. The event is open for drivers and non-drivers, McLaren owners and non-owners and will be the first Pure McLaren activity of a busy 2017 schedule.
Pure Mclaren Arctic Experience
Vehicle info: 570S Coupé
Location: Ivalo, Finland
Travel: Transfers from Ivalo Airport to JávriLodge are included
Clothing: Winter wear provided suitable for the environment
Cost: Prices start from £12,500 per person
Further information: cars.mclaren.com/experiences