Experience wonderful Worcestershire living with Taylor Wimpey's weekend events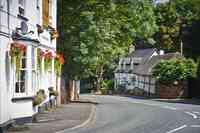 Property-seekers looking to be inspired by what beautiful Worcestershire has to offer need look no further than two sought-after Taylor Wimpey developments – Elgar Park in Kempsey and Bowbrook in Hartlebury.
The leading local housebuilder is hosting special events at both developments on Saturday 5th November and Sunday 6th November, offering home-buyers a fantastic chance to explore the stunning new homes on offer in these fabulous locations.
At Elgar Park, Taylor Wimpey will be holding a Help to Buy Weekend where a financial advisor will be on hand on Sunday 6th November to give potential purchasers all the information they need to know about this fantastic Government-backed scheme which enables eligible buyers the chance to secure a Government loan for 20% of their new home's full price – so they only need a 75% loan-to-value mortgage and a deposit as low as 5%.
What's more, Taylor Wimpey will be offering free flooring throughout for those buyers who reserve and complete their purchase at Elgar Park before Christmas.
Meanwhile, at Bowbrook there will be an Open Viewing Weekend to mark the launch of Taylor Wimpey's new viewhome – the five-bedroom detached 'Crompton'.
Visitors will be able to get a real feel for the flexible living space the 'Compton' has to offer and appreciate the properties carefully planned layout.
House-hunters will also be able to view the stunning 'Haddenham' and 'Hartlebury' showhomes, currently open at Bowbrook.
Elaine Cartwright, Regional Sales and Marketing Director for Taylor Wimpey, says: "Prospective purchasers have a wonderful opportunity to view both of these superb developments, allowing them to get a glimpse of the fabulous lifestyle they could be enjoying at either Elgar Park or Bowbrook.
"While it's possible to get a good idea of what a brand new home will be like from drawings and plans, the opportunity to step inside a viewhome allows purchasers to visualise how they could make it their own.
"Anyone hoping to secure their dream home in Worcestershire should come along to our weekend events to find out how we can help make their dream become reality!
"With friendly, helpful staff on hand too, it'll be a great opportunity for would-be buyers to find out more about the wonderful range of financial incentives that Taylor Wimpey offer."
There is currently a superb range of properties available for sale at both developments, with prices starting from £229,995 at Elgar Park and £306,995 at Bowbrook.
The Bowbrook development is surrounded by the rolling hills of Worcestershire on the edge of Hartlebury village, and offers a relaxed lifestyle for residents, while Elgar Park enjoys a peaceful setting on the southern edge of Kempsey, bordered by picturesque open countryside.
The Help to Buy and Open Viewing Weekends will take place at each development between 11am and 5pm. To find out more prospective purchasers should visit the Sales and Marketing Suites:
Elgar Park
Off Main Road, Kempsey, Worcestershire, WR5 3NF
Open Thursday to Monday from 11am to 5pm

Bowbrook
Worcester Road, Hartlebury, Worcestershire, DY11 7TU
Open Thursday to Monday from 11am to 5pm

Further information about Taylor Wimpey developments across the region is available by visiting taylorwimpey.co.uk.